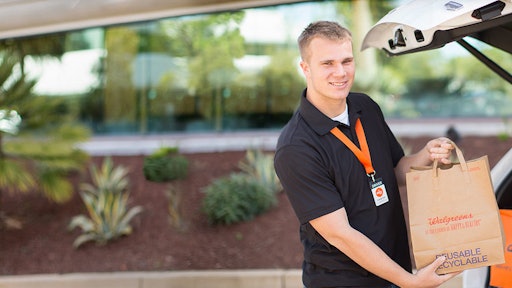 Same-day delivery startup Deliv has joined forces with software platform Jyve to provide a seamless, click-to-door e-commerce fulfillment solution for omnichannel grocers in response to an overwhelming demand. The service was designed to give grocers an end-to-end e-commerce fulfillment solution from in-store operations to last-mile delivery, while maintaining the customer experience on the grocer's branded e-commerce site.
"There is no reason for grocers to give up 150 years of branding and their customer relationships to a third-party marketplace when a Deliv-Jyve solution can power their branded e-commerce experience," says Brad Oberwager, co-founder and CEO of Jyve. "We free grocers to focus on what matters: their customers, employees, unique brand and stores."
Deliv will power the actual delivery from store-to-door, while Jyve provides grocers with scalable solutions for pick-and-pack, merchandising, ordering and demos.
Grocery e-commerce is expected to explode from approximately 2 percent to 20 percent of all grocery sales over the next five years, according to a study by the Food Marketing Institute conducted by Nielsen. In order for brick-and-mortar grocers to meet that growing demand, they will have to quickly decide how to fulfill e-commerce orders. Rapidly scaling these services in-house can be difficult, particularly as labor tightness reaches an all-time high and annual in-store turnover hits triple digits.
By leveraging third-party services such as Deliv and Jyve for in-store fulfillment and delivery, grocers no longer have to worry about additional labor and can instead concentrate fully on the customer experience while offering complete transparency.
"We've been servicing leading grocers and retailers for years, and as they scale their operations nationally, one of the most frequent requests we get is to support them in store," says Deliv founder and CEO, Daphne Carmeli. "We are thrilled to bring together Jyvers and drivers to offer a solution that is truly cost effective end-to-end fulfillment."
Companies in this article