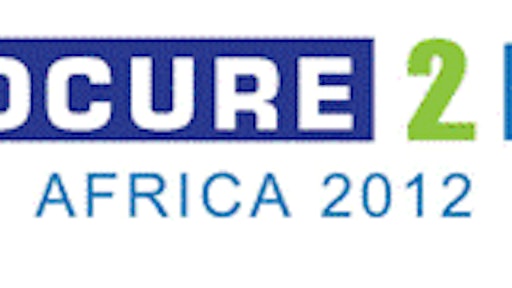 We are pleased to announce the launch of the Procure to Pay Africa 2012 conference, taking place in Johannesburg from the 25 – 28 June 2012.
Procure-to-Pay Africa 2012 will be the leading platform where the latest international and regional case studies, successful strategies, innovations and technological advancements will be discussed. Furthermore, you will have the option of interacting with the best minds and leading organizations in our in-depth interactive and hands on workshops. This event will give you incomparable strategic knowledge and tools to create a total value chain that will take your P2P process to the next level of value and sustainability.
Be sure to visit our website www.procuretopayafrica.com regularly for more information on the upcoming Procure to Pay Africa 2012.
Key topics include:
Developing strategic supplier relationship management to derive maximum value from outsourced providers
Driving the move towards achieving a standardised, paperless environment through automation of end to end processes
Creating a governance frame work and eliminating the risk of noncompliance and other risks that threaten P2P operations
Unlocking your key business intelligence - leveraging on data as a strategic tool
Why you should attend!
Be the change that will allow your organisation to realise major operational cost savings
Optimise process streamlining activities
Achieve key deliverables and business sustainability
Leverage from new technology and strategy trends in the industry
For more information email: enquiry@iqpc.co.za or call +27 11 275 0126