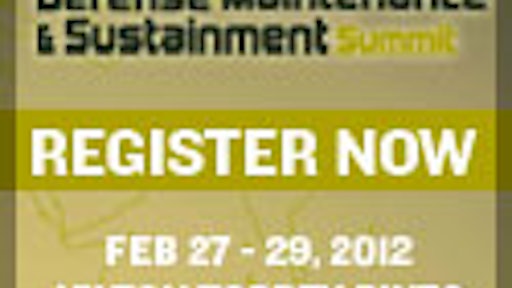 Theme: Integrating Embedded Diagnostics & Prognostics Into Legacy Systems, Reducing Maintenance & Logistics Footprints, And Reducing Total Life Cycle Ownership Costs For A More Efficient Enterprise.
Maintenance is the key to warfighter effectiveness and preparedness and providing effective support to our warfighters, wherever they may be deployed, is our duty. As the defense industry adapts to the new budget environment, the need for higher system reliability and more efficient sustainment strategies is the key to our continued success.
At Defense Maintenance & Sustainment 2012 you will hear from the most cutting edge programs and you will learn from the personnel that are implementing these changes every day.
Key themes this year include:
Examining Innovative Maintenance & Sustainment Support Planning Trends
Examining The Benefits Of A CBM Strategy For Sustainment
Trends, R&D And The Future Of Sustainment
Examining The Future Of Performance Based Life Cycle Support
Transitioning Engineering Information Into Logistics
Exploring Tactics For Acquiring Reliable Components That Drive Down Costs
Conducting An RCM Analysis As A Key Element Of Your CBM Strategy
Moving From Diagnostics Towards Maintenance Based On A Predictive Model
Optimizing Military Readiness Through Sense & Respond Logistics
Visit www.defensemaintenance.com to view the agenda or get further information.
*Register with discount code 19328.002X23533 to get a 10% discount