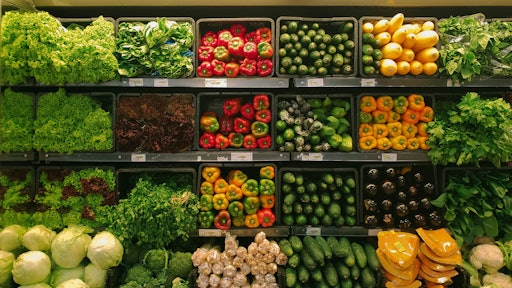 Proxima nrd-D6Tu_L3chLE-unsplash
Maintaining a sustainable food chain both upstream and down comes with a host of challenges and opportunities. On one hand, doing so protects people, product and plant, reduces waste, encourages a green economy and ensures the freshest of foods are transported in the safest, most efficient manner possible. Plus, it's just good business practice.
On the other hand though, an aging infrastructure, a rise in grocery e-commerce and an influx in globalized sourcing continue to stress today's cold chains.
So, how can companies continue to keep sustainability top of mind amid a global pandemic and continuous supply chain disruptions?
In Food Logistics' June 2021 issue, editor-in-chief Marina Mayer talks with several industry experts about why sustainable food chains matter and how companies can obtain the supply chain visibility needed to effectively maintain a sustainable food chain.
Here's an interview with Johnathan Foster, principal consultant, and Shane Rooney, principal consultant, for Proxima, with excerpts publishing in Food Logistics' June 2021 issue. [CLICK HERE to read the article in full].
Food Logistics: From your vantage point, what are some of the main sustainability-focused challenges today's cold food chains face?
Johnathan Foster: The growth of e-commerce and doorstep-delivery of consumer goods creates a sustainability problem for all supply chains, including cold chains. This is mostly due to additional packaging and smaller boxes required for e-commerce deliveries in comparison to a retail pickup. In addition, some reports indicate upstream food waste in food supply chains account for 30-40% of food produced in the United States. Suppliers are trying to save this food and deliver it to communities in need with 10% of U.S. population being food insecure.
Food Logistics: To piggy-back on this, what are some of the solutions, efforts or initiatives in place to promote sustainable food chains and mitigate waste, etc.?
Shane Rooney: The impact of this increasing trend of e-commerce has forced recycling centers to be placed where they are readily available to the greater public; this is especially true in metro locations where dense populations exist. Additionally, to impact the food waste issue, in our experience, the continued expansion of regenerative agriculture has an impactful solution with benefits such as less waster waste and less wasted land.
Food Logistics: Sustainability still matters, even in a global pandemic. Why is this? (Think ESG efforts, renewable energy/packaging, modernization, automation and more).
Foster: The collective focus of the public has been on their personal health over the past 12 months, but it is only natural for them to consider the health of the planet when the public is seeing issues that have a negative impact on environmental health. Consumers are seeing the impact of waste in ways that were typically hidden, dealing with negative outputs and/or byproduct within their communities.
Food Logistics: How does the Biden Administration's Climate Change Action Plan and re-joining of the Paris Agreement impact the current and future status of sustainable food chains?
Rooney: The support of traceability technology and agriculture automation in any plan will likely impact sustainability in a meaningful way, allowing for better visibility into food safety as demanded by consumers. Automation in agriculture is on the path to optimizing food yields and reducing wasted crop by automating the grow, pick and packaging process.
Food Logistics: What should companies in the cold food and beverage space do to achieve sustainable food chains? Where do they start if they haven't done so already?
Foster: Improving efficiency at grocery warehouses that are known for long waiting periods for drivers certainly impacts the environment, leading to less fuel consumption. Also, adopting innovative automation technologies will not only save money for respective companies, but also likely to improve their sustainability footprint.
Food Logistics: What kinds of technologies/solutions (i.e., Internet of Things, automation, etc.) is your company investing in and why?
Foster: The focus for our clients is efficiency gain technologies, such as robotic installations and improving and/or replacing antiquated TMS/WMS systems. Both options improve productivity and help lessen an organization environmental impact.
Food Logistics: What does the future of sustainable food chains look like? Any risks/rewards?
Rooney: The emphasis on easily biodegradable packaging and automation appears to be on the horizon for all sustainable-minded food chain organizations in the future. Not transitioning to more sustainable ways of working could result in influencing consumers to buy elsewhere as their demand for visibility and sustainability within food supply chains is growing stronger by the day.
A key risk with automating your agricultural supply chain is the high up-front investment costs to acquire cutting-edge technology, preventing all but the biggest food producers from taking advantage.
Food Logistics: What are some things not addressed above that may be pertinent to our readers?
Rooney: Creating an environment where food waste is transformed and/or transferred to populations facing worsened financial viability or lack exposure to nutrient dense foods (food deserts) helps reduce the impact of waste and improves the health of these communities.
A key focus point for driving sustainability in our food-chains will be changing the culture in the United States of expectations around how our food is over-packaged, discarded well before the quality life of the food is expired and general population's understanding of how to use more of the healthy food they buy so that less goes to waste.