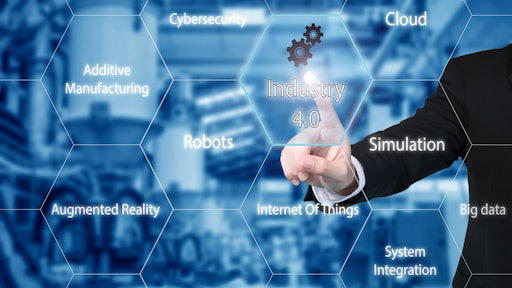 ake1150 - stock.adobe.com
The Coronavirus disease (COVID-19), consumer spending, shipping backlogs and labor shortages — all major disruptors that turned the global supply chain industry on its head in recent years. It's reasonable to expect continued issues and delays in the coming months, but by identifying key trends and solutions now, organizations will be well-equipped to improve processes and execution to shape more resilient and advanced supply chains. This year, industries of all types and sizes will be eager to do what they can to meet customer demands, diminish further risk and overcome the "Great Supply Chain Disruption."
A commitment to developing supply chain talent
Finding, developing and managing supply chain talent will be critical to supporting ongoing industry advances and solutions in 2022. As the supply chain landscape continues to evolve—especially with the rise in digital, artificial intelligence, robotics and other forms of automation—people at all levels of the supply chain should expect to experience and adjust to new ways of working. From traditional blue-collar jobs like warehouse workers, port operators, and truck drivers, to the traditional white-collar jobs within a corporate supply chain department, employees will need to adopt new skills to excel in this evolved framework.
In parallel, organizations must be creative to attract, reskill and retain talent, as traditional approaches may not be as relevant to future supply chain needs. More companies will look to implement new tactics and offer valuable differentiators to recruit and keep talent, such as offering better pay, benefits and training. As organizations work through these large transformations, creating training in analytical and technical skills and opportunities in data science and project management will be key to driving the supply chain of the future. More companies will look to partner with universities and other organizations to develop flexible programs to help prepare current and future talent.
A laser focus on customer-centricity
Customer-centricity is on the minds of supply chain professionals everywhere. The sharp rise of the consumer of the last 10 years—as evidenced by the substantial growth of online marketplaces—has been a wake-up call to all industries to meet and exceed the demands of not just the retailer or distributor customer, but the individual consumer. People want products where they want them, when they want them and at a fair price. Supply chains will respond by increasing inventory levels or leveraging creative technological solutions like demand planning technology and procurement analytics to adapt to consumer demand. Overall, a flexible supply chain that can meet ever-increasing customer expectations at the lowest cost will triumph.
Additionally, supply chain companies are responding to individual consumers' calls for transparent, ethical and sustainable business practices. Consumers now have the power to place pressure on companies in several ways, including boycotting products due to unfair labor practices, environmentally damaging products or socio-political leanings. This means that it's not good enough for companies to simply have a high-quality product; their values and actions must align with those of the consumer, and they must cultivate positive relationships with communities in which they interact.
Increased visibility into business processes and ethics
In 2022, end-to-end visibility will be a key goal for organizations as they strive to facilitate new business models, satisfy customers and capture new growth. In previous years, there wasn't much investment in track-and-trace technologies due to high costs; however, now people's standards and strong commitment to more ethical and responsible business processes will serve as the impetus for increased investment in automation and supporting technologies.
The Internet of Things (IoT) will truly revolutionize supply chains — GPS, RFIs and other technologies can facilitate tracking raw materials and final products. Cheap and reliable sensors that can provide large amounts of data are essential for the large-scale implementation of the Internet of Things (IoT). Tracing goods to the source will become more popular among customers, and real-time access and visibility to end-to-end supply chain data will produce more responsive and competitive networks.
Collaborating with artificial intelligence and machine learning
Implementing artificial intelligence (AI) and machine learning (ML) systems will be key for organizations looking to advance their operations and gain a clear competitive advantage. Already, these technologies are quickly becoming embedded into all aspects and levels of business. Successful at integrating people, processes and systems, these smart technologies will propel the evolution of industry 5.0. Expect a more collaborative approach going forward, including the partnership between humans and robots.
By leveraging AI and ML, organizations can begin to find relief amid the Great Supply Chain Disruption and mitigate major supply chain risks and concerns. There will be huge improvements across supply chain functions such as planning, demand management and fulfillment. Machines will collect information and identify and analyze detailed insights, helping to steer organizations toward their transformation goals.