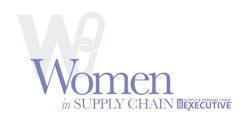 Growing up, I was made to believe that it wasn't a woman's place to be in certain industries. Warehouses were hard, dirty work. Trucking meant that you wouldn't be able to have a family. Don't even get me started on what it takes to be an engineer. I was always told to sit quietly and act like a lady, but what does that even mean? Does it really mean to be sprinkled with sugar and spice, be feminine and let our male counter-parts take the lead? I don't think it does.
The 1990's cartoon hit PowerPuff Girls empowered this generation that is in between millennials and Gen Z – Zillennials, if you will. The intro told us that sugar and spice makes little girls nice, but it also produces super heroes who continuously save the City of Townsville from mass destruction – all while wearing bows and a dress. Not unlike some women in supply chain.
If we have learned anything from the Coronavirus Disease (COVID-19) pandemic, it is that women in supply chain are super heroes in their own right. They are breaking the classic mold of femininity and re-working it in their own way by becoming world-class innovators and thought leaders. While these women are shattering glass ceilings all around us, there are still disparages. We are still being told to smile.
According to Gartner Inc.'s 2020 Women in Supply Chain Survey among 177 supply chain professionals, 17% of chief supply chain officers (CSCOs) are now women—a 6% increase compared to 2019 and the highest rate since the first edition of the survey in 2016.
"The increase in women executive leaders over the past year is a positive sign, however the survey showed that women don't consistently make it through the pipeline," says Dana Stiffler, vice president analyst, Gartner Supply Chain Practice. "Lack of progress is not something the industry can afford at the moment. Supply chain's role in the COVID-19 pandemic and subsequent recovery is crucial, with lives and livelihoods at stake. This is a pivotal time for many women in mid-level and senior management positions."
Despite the increase, there is still a noticeable gap between women and men in vice president and director levels.
According to the survey, 63% of respondents have active goals, objectives or initiatives to recruit more women to their business and build pipelines.
However, it could take years to build this activity to strengthen pipelines. This contributes to representation of women in the total supply chain workforce remaining unchanged at 39% year-over-year.
The Wall Street Journal found that men earned 29% more than women in 2017, with the gap widening in C-suite positions. Although there are fewer women working within the field, men who had 15-19 years of experience in the industry earned 48% more than their female counterparts. And that gap only widens between women of color as well.
Nevertheless, women continue to move the industry forward. That's part of the reason why Supply & Demand Chain Executive launched its first annual Women in Supply Chain award.
The Women in Supply Chain award honors female supply chain leaders and executives whose accomplishments, mentorship and examples set a foundation for women in all levels of a company's supply chain network.
SDCE received over 300 nominations, with 136 women gaining recognition. In addition, 5% of winners were nominated by their male counterparts, while 8% of winners were self-nominated. This milestone award has reached women in every single sector of the supply chain, recognizing their outstanding talents and perseverance.
So, what does it really mean to act "like a lady?" The recipients of this award will be able to tell you. It's about leading with grace, advocating for your team, being a mentor, having a willingness to learn and adapt to changes and more. As the Powerpuff Girls taught us, if you fight like a girl, feel like a girl and lead like a girl, then maybe you're a super hero and the supply chain industry is the field is for you.
To see the full list of winners, please click here. Featured recipients are as follows:


Hannah Kain
President and CEO
ALOM
Hannah Kain is a long-time veteran of the supply chain industry. Her experience as president and CEO of ALOM helped bring the company to another record revenue year in 2019. Throughout her career, Kain has served on several industry boards and been recognized as one of SDCE's Pros to Know over the last seven years. In addition, when the COVID-19 pandemic first hit, Kain led the retooling of production lines to support medical equipment configuration and test kit assembly/distribution to healthcare facilities across the country. Despite the pandemic, Kain helped lead her team to a 100% on-time shipping record in Q2 of 2020. industry survive and thrive.


Lynn Caldwell
Chief Sales Officer
Over the last 43 years, Lynn Caldwell has served the transportation and logistics industries in various positions ranging from accounting to operations. She is the example of a "Can do, I will succeed" mindset, achieving many accolades along the way. In 2018, Caldwell joined Banyan Technology, helping the company grow its revenue by 30%. In addition, she has helped develop the sales staff to bring new products and open new markets. Always striving to support the industry through education and understanding the broader picture, Caldwell continues to be a leader. The current and recent events of the COVID-19 pandemic have highlighted the need for the supply chain and logistics industries to become more efficient and productive. Because of this, Caldwell remains drive to be a part of the solution set that helps the industry survive and thrive.


Mary Lamie
Executive Vice President of Multi Modal Enterprises
Bi-State Development
Reliable infrastructure is a critical component of any supply chain, and Mary Lamie has spent the last 30 years advocating for improved infrastructure and the funding required to enhance key elements of the nation's freight network. Lamie continues to forge partnerships to develop new transportation links between the Midwest—home to the Ag Coast of America—and coastal and gulf ports in order to facilitate the movement of cargo between the United States and overseas destinations. Under her leadership, Bi-State Development's St. Louis Regional Freightway enterprise was awarded the 2017 Outstanding Local Government Achievements Award for Exemplary Intergovernmental Collaboration by East-West Gateway Council of Governments. Her primary objective is to coordinate with industry and government to enhance and grow the $6 billion in goods traveling through the bi-state St. Louis region, as well as helping to ensure the region's infrastructure can handle the growth.


Heather Mueller
Chief Operating Officer
Heather Mueller's career has been focused on creating meaningful client experiences across the entire supply chain. Her efforts have ranged from designing consumer-focused, in-store shopping experiences to the inception and oversight of large shipper conferences. What sets Mueller apart in any role she takes on is her ability to think abstractly about the ever-changing challenges of the supply chain. She has mastered the balance between data and relationships. Mueller has been a catalyst for Breakthrough's digital transformation, shifting the focus from operational challenges to an industry-wide revolution.


Charlene Keller
Senior Director of Enterprise Accounts
Charlene Keller has played a positive role in the logistics industry since starting her career at Choptank Transport in 2007. In the years that have followed, she has quickly worked her way up the leader board, earning her the current position of senior director of enterprise accounts. Keller realizes the importance of giving back, though. She is on Choptank's community involvement committee and donates much of her free time to charities in her area. In addition, she mentors others in the workplace and continues to lead by example.


Ada Palmadottir
Business Development Director
With more than 20 years of pharmacy, management and technology expertise, Ada Palmadottir was ready to conquer 2020. Her extensive international pharmaceutical experience, specifically in product supply chain, vertical alliance sales and networking has helped her roll out global visibility solutions throughout several companies' supply chains. In her role as business development director of Controlant, Palmadottir is responsible for ensuring the good manufacturing practice and good distribution practice compliance and validation for the company's pharmaceutical supply chain customers. She is dedicated to finding the best ways to use supply chain real-time data to mitigate risk and take necessary actions to prevent product damage or loss.


Valerie Hoge
Chief Operations Officer
DHL Supply Chain North America
As a supply chain executive, Valerie Hoge possesses the unique combination of deep expertise in strategy and data, all while maintaining a passion for coaching and empowering associates to take ownership of their work, making her a standout among her peers. Since joining DHL Supply Chain North America in 1999, Hoge has held several leadership positions overseeing, educating, training and supporting more than 480 sites across North America. In her current role as chief operating officer, Hoge has successfully delivered gross profit growth of more than 15% in 2018, while improving overall efficiency by 7%. Meanwhile, her leadership at the beginning of the COVID-19 pandemic resulted in overwhelmingly positive feedback from customers, colleagues and board leadership.


Sally Miller
Chief Information Officer
DHL Supply Chain North America
Sally Miller's commitment to fostering innovation in the supply chain and her actions to inspire the next generation of female leaders has been at the forefront throughout her career. During this time, she has been focused on tackling challenges with a combination of creativity and strategy, focusing on technologies that will make a difference at every level of the supply chain. In her position as chief information officer at DHL Supply Chain North America, Miller drives innovation across the business, ensuring customers are working with top technologies customized to meet their individual needs. Thanks to her leadership, the company has taken a pioneering role within the contract logistics sector in deploying new technologies. Meanwhile, Miller has made it a goal to develop talent on her team. Due to her efforts, the company saw a decrease in IT department turnover, while her mentorship of high-potential female colleagues resulted in increased leadership development opportunities.


Neha Desai Shah
President and Co-Founder
As president and co-founder of GEP, Neha Desai Shah has built a rapidly growing global enterprise. She has played a critical role in driving GEP to impressive growth and worldwide recognition as a market leader in procurement and supply chain solutions. In her role, she guides the company's growth initiatives by building and managing strategic, C-level relationships with clients and leading complex business transformation engagements. In addition, Shah frequently speaks on busines strategy, leadership and women's careers at leading industry platforms and academic institutions.


Roopa Gandhi
President and Founder
GEP
Since GEP's humble beginning in the basement of her house 20 years ago, Roopa Gandhi has built a rapidly growing global enterprise that competes with some of the largest firms across the globe. Gandhi's leadership skills are reflected strongly in the company she has built, making her a leader within the supply chain. She has taken on the responsibility of defining and shaping GEP's culture, championing inclusivity and equal rights among her employees. Gandhi continues to bring a more human perspective, knowing that by cultivating a healthy, support environment, people will be empowered to do their best.


Jill Hochstetler
Senior Manager, Logistics Operations
As senior manager of logistics operations for Jarrett Logistics Systems, Jill Hochstetler manages a team of highly qualified professionals overseeing some of the most complex supply chains in the United States. She is a valued mentor for her peers, overseeing the execution of important client goals and initiatives all while managing new client expectations. In less than 10 years at Jarrett, Hochstetler has earned five promotions to reach her current role, demonstrating a passion for the development of herself and her team. She is dedicated to guiding her team toward personal improvement, inside and out of the office. As a result, Hochstetler has promoted over 20 people, including three to a logistics manager role.


Bernadette Valencia
Vice President and General Manager, Guam & Micronesia
Bernadette Valencia is vice president and general manager for the Matson Navigation Guam Hub, responsible for managing the shipping of a great majority of goods imported to sustain daily life and maintain the quality of life in the communities. Under Valencia's leadership, Matson Guam enjoys a majority of the local market share by maintaining a strong reliable network and define on-time service within hours. When the COVID-19 pandemic first began, Valencia gathered her team to embark on a public service campaign to create community-wide awareness. By putting the residents' well-being and welfare at the forefront, she was able to reassure that shipments would still be scheduled and uninterrupted to the communities they serve.


Paula Petersen
Vice President of Procurement
Over the last 30 years, Paula Petersen has had a successful career spanning across different companies. Since joining PRIDE Industries in 2012, Petersen helped develop a procurement department that provided vision and innovation to optimize the entire spectrum of supply chain capabilities. She has had the privilege of engaging with company leaders and suppliers throughout the globe, gaining respect and perspective for diversity in many forms. Petersen remains focused on making things possible out of situations that were once deemed impossible. She believes that building productive relationships and helping others to do the same is a key component of success.


CEO
Under Megan Smith's guidance, Symbia Logistics became a WBE-certified company. This designation meant that she was able to retain her largest client, protecting all of the jobs of more than 1,000 employees. During this time, she still sees the biggest challenge as encouraging customers to adapt new processes instead of relying on traditional legacy methods. Smith continues to contribute empathy, kindness and generosity to her business and to the industry as a whole.


Janet Bays
Senior IT Manager, Applications and Development
Toyota Tsusho America, Inc. (TAI)
Janet Bays was one of Toyota Tsusho America's first employees, and for 30 years has helped grow TAI's IT capabilities from homegrown systems to implementation of Tier 1 solutions for WMS. She currently leads all application and development and manages a team of 12. A natural project lead, Bays understands both the business and technical aspects and can speak intelligently to everyone on a project, bridging the gaps between IT, systems, operations and business/finance. She strongly believes in looking ahead and initiating discussions at TAI around AI, blockchain and other transformative technologies to benefit the company's U.S. and global operations. She sees her role as identifying the IT solutions and platforms that allow Toyota Tsusho to make decisions quickly and confidently for optimal company performance—today and in the future.


Janet Deverso
Operations Lead and Manager
TradeTrans Corporation
In her 19 years at TradeTrans Corporation, Janet Deverso has been a key player for evolving the company into a global leader in foodservice supply chain management. Her love for her position is contagious and allows her to guide her team every day with managing the supply chain needs of some of the world's top QSR brands. Deverso is committed to making trusted relationships with her clients, and continues to be committed to understanding all aspects of supply chain management.
Companies in this article