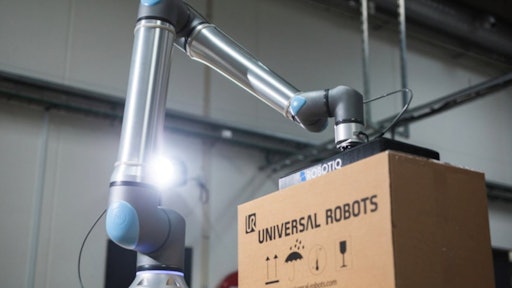 Universal Robots
Universal Robots announced plans to add a new 20kg cobot to its product range.
The UR20 cobot features an entirely new joint design that will allow for even faster cycle times as well as the ability to handle heavier loads.
"This is not just a bigger version of our existing cobots; it's the cobot redefined," says president, Kim Povlsen. "The UR20 is the most innovative cobot we have produced and the latest evolution in 17 years of technical experience in the robotics industry. Our expert engineers have completely re-engineered the arm while retaining the same intuitive user interface we have long been celebrated for.
"The benefits of the UR20 are significant, from faster cycle times and the ability to handle heavier loads, to greater reach with a small footprint. We've also incorporated advanced software enhancements, giving users unprecedented motion control capabilities," Povlsen adds.
From BusinessWire:
The UR20 boasts a 1750-mm reach to transform the way businesses package and palletize.

The UR20 is projected to be used for welding, material handling, machine loading and machine tending, as well as for innovative solutions created by its extensive partner ecosystem.