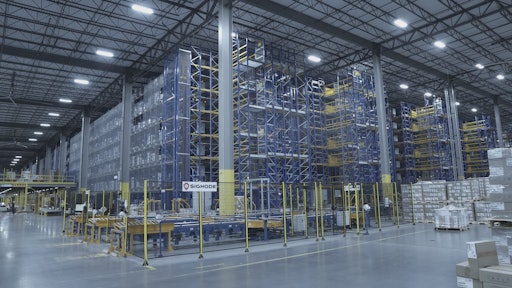 Signode
India-based Aurobindo Pharma is one of the leading generic pharmaceutical companies in the world. It manufactures and distributes millions of pharmaceuticals to more than 150 countries, overseeing a complex, global operation where safety, security, and speed are paramount.
Seeking to manage its expanding United States footprint, the company broke ground in 2016 on a new state-of-the-art 567,000 sq. ft. distribution center in East Windsor, New Jersey. Located about 50 miles outside of New York City, the facility is U.S. Food and Drug Administration -approved, Current Good Manufacturing Practices -compliant, and powered by 39,000 rooftop solar panels.
It serves as the exclusive hub for Aurobindo Pharma USA, the company's vertically integrated U.S. distribution entity. The facility currently ships more than 200 million units annually across 200 product categories to hospitals, doctor's offices, commercial pharmacies and retail outlets nationwide. With annual growth routinely surpassing double digits per year, even this advanced operation required further automation investments to meet current and future demands.
It did not have to search far. One of the company's manufacturing sites in India had already enjoyed great success with StorFast ASRS, a premier solution engineered by Signode, a global leader in packaging automation. The company decided to invest in the system for its New Jersey operation in late 2017, with further build-out in 2020. "We were able to work collaboratively with the global team at Signode to develop and implement a strategy that had the ability to address our ambitious growth objectives," says James Downey, senior director of distribution, Aurobindo Pharma USA.
The investment paid off. Aurobindo Pharma's U.S. nerve center has dramatically amped up its warehouse storage capacity, from 7,000 pallets to 34,000 pallets, a remarkable 450% increase. "Optimal outcomes start with listening to the customer, learning about their needs, then meeting them with the right scalable solutions that ensure their current and future demands are met and accounted for," said Byron J. Paul, Group President, Automation & Packaging Technologies, Signode. "Our partnership with Aurobindo is a perfect example of this in action."
ASRS: High density, high velocity, high volume
The StorFast ASRS system provides high-density, 24/7-access to all products in the warehouse. The shuttle & cart system allows multiple orders to be processed simultaneously and can flex between high-volume input and peak shipping schedules to optimize the utilization and efficiency of the system at all times.
While the StorFast ASRS system is an increasingly specified solution for both existing and new facilities across industries, Aurobindo Pharma USA is the first U.S.-based pharmaceutical warehouse and distribution center to deploy an ASRS. "This sophisticated system seamlessly manages the inbound and outbound storage and retrieval of up to 80 pallets per hour simultaneously," said Scott Pruner, distribution manager, Aurobindo Pharma USA. "In one month, that equates to approximately 18 million units, which is a high benchmark we couldn't reach without the StorFast system."
The pallets can also be stacked as high as needed, making use of untapped vertical warehouse space. In dense urban environments where land is at a premium, like the New York City metropolitan area, the ability to "build up instead of out" allows the company to maximize its automation investment through smart, vertical scalability.
Complex system integrations made easy
Advanced automated warehouse solutions are coordinated, maintained, and operated by interwoven and complex technology, operations, and human interactions. Signode designed a complete operating system, with StorFast ASRS at its core, that manages the location of every pallet for optimal pallet traffic. It is seamlessly integrated with Aurobindo Pharma USA's existing Enterprise Resource Planning and Warehouse Management System to ensure protection and security throughout the product journey.
"It's a very intelligent system that can do wonders," said Khantesh Pandya, distribution manager, Aurobindo Pharma USA. "There are no issues with its ability to smoothly interface with our current systems – with accurate data-transfer throughout the process."
Data transfer starts with product arrival at the facility, where U.S. regulatory agencies stand at the ready to verify the overseas shipments, including the Customs and Border Protection, Food and Drug Administration, the Department of Agriculture, and the Drug Enforcement Administration.
"ASRS is the best thing we've ever invested in," said Lorie Johnson Lawson, distribution manager, inbound import receiving, Aurobindo Pharma USA. "From where we are now, we can move more product faster and with greater accuracy to our customers."
Arrivals are tracked and traced in the system. Pallets are sorted and placed in the most appropriate location – based on volume, product type, expiration date and other factors – and then stored until ready for retrieval based order fulfillment needs. For instance, high-demand products are positioned closer to the front of the warehouse, ensuring optimal placement of the pallet based on predetermined business rules.
Compliance and control: configurable and scalable
"Increased control yields required compliance and are among the system's best benefits," said Downey. "We can easily fill both large and small orders, everything from full pallets to cases for wholesalers and retailers to individual cartons delivered to your local doctor's office or neighborhood pharmacy."
Because some shipments contain more than one type of medication, they must be assembled by pulling products from various pallets. The StorFast system knows which pallet to pull from – so if there is a pre-picked partial pallet that meets the need, the system pulls from there instead of retrieving a full pallet. Large orders are proactively planned. The benefit of being able to schedule shipments also means that when Aurobindo Pharma USA has to prepare time-sensitive shipments, it can avoid time crunches, versus suddenly having to shift gears and work at double the speed to meet important deadlines.
Scalability and customization are built into the system that was designed through the collaboration of the two global organizations. Moving from manual to automated wasn't without its challenges during the three-month install and testing period. "Signode's support at every step of the process made a huge difference," said Pandya. "We had highly skilled and qualified Signode technicians who were on site every day, supporting us through the transition, and we never had issues with pallet traceability or orders unfilled."
Future-proofing for future growth
The StorFast system is designed to grow as quickly as Aurobindo Pharma USA, which is still in the midst of rapid expansion. The company notes that an additional 20-50 of its products are in the FDA-approval pipeline, with continuing double-digit growth projected year-over-year. The modular system can easily be added to and combined with future automation enhancements. In fact, Aurobindo originally was looking for a 20,000-pallet location system but worked with Signode mid-planning to increase it to the current 34,000. Future expansions are already being planned and the facility has the capacity to hold more than 40,000 pallets.
"This only comes together with the commitment of senior management to provide the resources, systems, and capital needed for us to deliver the volume and precision our customers expect," said Downey.
Added Pruner, the facility's distribution manager: "Without Signode and StorFast ASRS, we wouldn't be where we are today."