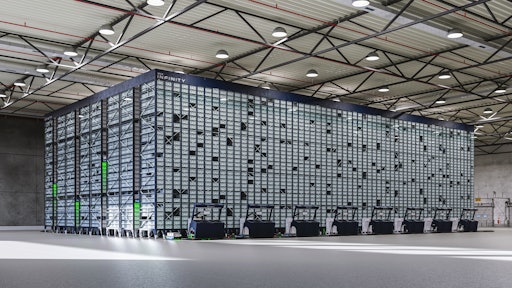 OPEX Corporation
OPEX Corporation developed the Infinity goods-to-person solution, which combines unparalleled storage density, configurability and flexibility to meet the most pressing warehouse automation challenges for companies handling micro-fulfillment, omnichannel distribution, store replenishment and e-commerce.
"Our focus is on engineering exciting new solutions that address unmet and evolving customer needs," says Alex Stevens, president, OPEX Warehouse Automation. "The Infinity solution represents the next generation of goods-to-person technology to perfectly complement our existing warehouse automation product line."
From BusinessWire:
Powered by

OPEX's

proprietary Cortex software platform, the Infinity G2P solution is engineered for maximum flexibility and scalability in both throughput and storage. Key benefits include reducing labor while increasing efficiency, storage density and configurability.
Wireless Infinity iBOT robotic vehicles access all inventory and port stations, moving freely underneath and throughout the system with no wasted mechanical motion, saving time and costs. Infinity iBOT robots are easily scalable by adding more iBOTs, presentation ports, and grids.
The Infinity goods-to-person system utilizes a unique interlocking system to store totes triple-deep, eliminating wasted space and maximizing storage density. A configurable rack design optimizes warehouse space despite obstructions that may exist, such as columns or other equipment. The Infinity system's flexibility also accommodates varied workflows and layouts.
"E-commerce is growing exponentially," says Stevens. "Companies today need dependable yet advanced technology, the resiliency to meet shifting and seasonal demands, fast and accurate fulfillment, the ability to maximize space, and a partner they can trust. OPEX and the Infinity solution deliver all of this and more."