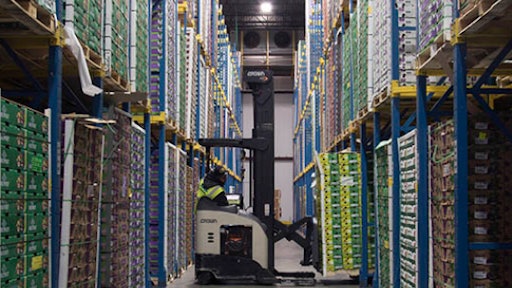 Steel King
Tom Koontz Appointed Steel King Director of Engineering
Steel King Industries is looking to a new director of engineering in Tom Koontz who will lead all three of the company's locations throughout Wisconsin and Georgia.
Koontz came to Steel King in February to take over and comes from years in engineering and material handling. He has a wide range of managerial experience in addition to professional engineering licenses in 11 states throughout the United States.
The company is responsible for manufacturing warehouse material handling. A recent piece from its sales manager, Ryan Wachsmuth, shows its belief that pallet flow racks can help maximize space and logistics.
Kloeckner Metals Sees CFO Transition
Starting April 1, Andrea Moseley will resume the role of chief financial officer at Kloeckner Metals Corporation, as Kirk Johnson retires. The board chose Moseley for the position thanks to her experience in the company itself and international business, having been with Kloeckner since 2002. Before Kloeckner she spent time with its parent company, Klöckner & Co SE, in Duisburg, Germany.
Johnson retires after almost 40 years with the company, first joining in 1982 as a staff accountant.
Allied Electronics Looks to New Leadership in Expanded Sales Team
Allied Electronic and Automation is investing further in its recently expanded sales team with a new vice president and global leader, Mike Walker, who has more than 18 years of experience. The sales team now consists of more than 450 employees throughout regions in the United States, Canada, Mexico and Chile, all of which he will be leading.
Walker's success in B2B sales led Allied to the decision to hire him. The new appointment follows other new hires in the company in departments such as marketing, human resources and finance functions as it works to expand its warehouse in Fort Worth.
FPA Celebrates New Board Members
Charter NEX Films, Inc. CEO Kathy Bolhous has been elected as executive vice chairperson of the Flexible Packaging Association during its annual meeting in Florida this march. She joins other directors as they step on board, ExxonMobil Chemical Company's Tricia DeLaney, PPC Flexible Packaging's Kevin Keneally and Dow's Nestor de Mattos.
FPA's chairperson's advisory council has appointed new members Evan Arnold of Glenroy Inc. and Catherine Heckland of Ashland.
Berry Global's health, hygiene and specialties division president, Curt Begle, remains in his duties as chairman of the board.
The FPA recently issued letters to the White House urging officials to clarify flexible packaging as an essential business.
Cimcorp Aligns North American Operations with Global Strategy
Cimcorp has looked inside its own organization to invest in sales growth in North America by promoting previous distribution systems sales manager Derek Rickard to director of sales in the market.
The goal is to increase Cimcopr's presence in the warehouse and distribution market in North America with Rickard's appointment. He will lead the sales team in this market in aligning with Cimcorp's global strategy focusing on the tire industry and consumer product distribution.
Rickard has experience within the company working with customers to recommend a wide range of Cimcorp products across robotics, automation and software to help support operational functions such as fulfillment speed, space utilization, labor shortages and seasonal demand fluctuations.
Companies in this article