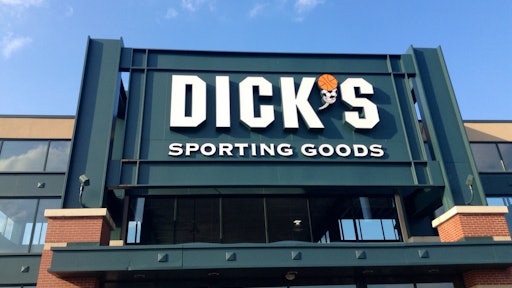 Dick's Sporting Goods is revamping its supply chain processing by moving from centralized e-commerce fulfillment to regional east and west coast operations to help speed up deliveries, Multichannel Merchant reports. The company is also testing pickup lockers at certain locations.
The retailer boosted 24 percent growth in e-commerce for its first quarter, increasing from 9 percent to 11 percent of sales in the past year, although, same-store sales decreased 2.5 percent. According to Multichannel Merchants, the company reported success within its omnichannel efforts as well as its supply chain and inventory improvements.
With a new distribution center in Conklin, New York expanding to handle regional e-commerce fulfillment, plans for another regional facility on the west coast are in the works as well. Currently, the bulk of e-commerce fulfillment is handled from a centralized facility in Louisville, Kentucky.
Dick's has also been testing out self-serve pickup lockers where shoppers can pick up online orders within an hour, Multichannel Merchant reports. The retailer is performing a small test at certain locations, without any plans of further expansion.
Since taking its e-commerce operations in house by insourcing its platform, Dick's profitability has improved significantly.
As the company continues to boast improved numbers, some areas of the business have seen some decline. After Dick's announced that it was no long selling assault weapons in the wake of the mass shooting on February 14 at a high school in Parkland, Florida, the company was banned from the National Shooting Sports Federation's annual event and gunmaker Mossberg discontinued its relationship with the retailer. The company saw an accelerated decline in the already challenged hunt category, but reported consumers solely shopping with the company due to the new policy.