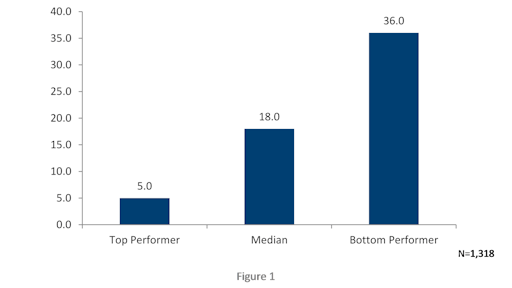 As a key cycle time measure in the order fulfillment process within warehouse operations, pick-to-ship cycle time captures the number of hours from when an order is released to be picked until the time the order has been shipped. This cycle time represents elapsed time to pick an order, prepare the order for shipping and place the order with the carrier. It does not include the time in transit from shipment until delivery to the customer.
Top performers complete this process more than seven times faster than bottom performers as shown in Figure 1. Top performers can ship customer orders 31 hours faster than bottom performers, giving them a competitive advantage that ultimately makes it easier to keep their customers happy, retain existing customers and potentially acquire new customers.
Top performing logistics organizations, which balance in-house and outsourced activities, have implemented practices, processes and systems that enable them to fulfill orders faster and more completely with lower investments in inventory. For example, to improve cycle time on this measure, an organization can implement a location grid to manage warehouse layout, efficient put-away, pick and inventory cycle counting. Strategies for inventory storage locations can also drive cycle time improvement, including last in, first out (LIFO); first in, first out (FIFO); first expired, first out (FEFO); product velocity; or other storage requirements.
Modeling and simulation tools can reduce warehouse use, as well as ensure more accurate picking and packing. Dynamic simulation of storage and picking requirements, for example, helps the organization optimize the warehouse for better performance in terms of labor usage, cost, physical space and cycle time.
Implementing a warehouse management system (WMS) further enables the organization to create more efficient storage and picking processes. The WMS can optimize efficiency with activities such as dynamic slotting to optimize picking and pick area replenishment. Different process automation systems and material handling devices are available to enable automated order communication with relevant team members, increase accuracy in picking and reduce time in picking. Visibility can be further enhanced by integrating order management, manufacturing and financial systems.
Top performers also evaluate the performance of the warehouse to improve layout, picking methods, inventory placement, container/pallet usage and other key activities. They also consider the impact of the pick-to-ship process on downstream activities (e.g., loading in unloading order). The key to improving performance is to implement a well-executed manual or automated system to inspect, track, assign space, pick and protect products.