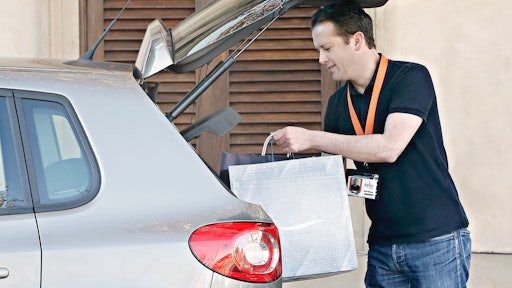 Deliv, a leader in the same-day delivery space, has announced a new nationwide expansion to 33 major markets that will enable retailers to offer the speed and convenience of delivery that their customers expect. Having previously been available in 19 markets, Deliv will nearly double its footprint across 23 states and more than 1,400 cities.
Deliv's existing e-commerce integrations with retail partners have made expanding into new markets as simple as adding new zip codes and on-boarding new drivers. Retailers that are expanding with Deliv to power their same day deliveries across the country include: Best Buy, Bloomingdale's, BloomThat, Fry's Electronics, K&L Wine Merchants, Office Depot, PetSmart, Macy's, Plated and The UPS Store. Deliv's 14 new markets include Austin, Charlotte, Cincinnati, Columbus, Denver, Kansas City, Minneapolis, Orlando, Phoenix, Pittsburgh, Sacramento, San Antonio, San Diego, and Tampa.
Deliv enables omnichannel retailers to compete with Amazon's same day delivery programs by leveraging their brick and mortar locations into fulfillment centers to power same day delivery. Upping the ante on superior customer experience, Deliv gives retailers' customers the option of selecting their preferred one-, two- or three-hour delivery windows directly from the retailer's website or mobile app.
"Same day delivery is quickly becoming table stakes across every retail segment. With Deliv, retailers can offer their customers that same exceptional level customer experience without the need to invest in their own asset-based delivery fleet," said Daphne Carmeli, CEO and founder of Deliv. "As retailers look to offer a consistent experience nationwide, they need a proven, trusted, national partner. Our expansion offers them the speed, flexibility, and broad national footprint needed to compete with the ever-growing force of Amazon."
Deliv's rapid expansion into more than 1,400 cities comes at an important time for retailers trying to keep pace with growing consumer expectations. With Amazon's Prime Now service setting the standard for shopping convenience, 80 percent of shoppers want a same day shipping option. Closing the gap between products and customers, and offering a seamless experience has become an existential issue for retailers both large and small.
Companies in this article