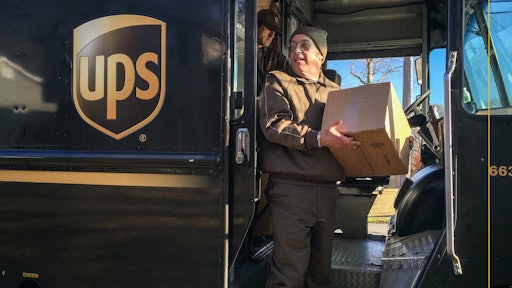 Here's another reason to cheer the weekend: UPS, for the first time, is offering Saturday ground delivery and Saturday pickup services, delivering shippers Saturday choices. The time-in-transit improvement is one of the largest in the company's 109-year-history. This planned expansion is expected to create more than 6,000 new UPS jobs nationwide when operations are fully implemented by the end of 2018.
"The addition of another ground operations day more efficiently utilizes our existing delivery network and offers customers an even faster ground delivery solution," said Teresa Finley, UPS's chief marketing officer.
UPS began testing the Saturday delivery program in Atlanta, Philadelphia and Los Angeles in 2016. Further expansion is underway in these cities and broader deployment begins in April to 15 additional metropolitan areas including New York, Chicago and Boston. By November—in time for the holiday shipping season—nearly 4,700 cities and towns are planned to be covered. In 2018, coverage will expand to more than 5,800 cities and towns.
The company will now offer a full range of transportation options covering six days a week, expanding customer choice and offering flexibility. Paired with more than 8,000 UPS Access Point locations and UPS My Choice, this service expansion significantly enhances a shipper's ability to get packages to consumers where and when they want them delivered.
Online retailers stand to benefit from fewer lost sales due to abandoned online shopping carts, enhanced ship-from-store options and fewer items being out of stock.
Saturday ground pickups will enable online retail shippers utilizing a ship-from-store strategy to achieve Monday deliveries for the vast majority of the U.S. population. In the UPS Pulse of the Online Shopper study, retailers report that 46 percent of customers abandon a shopping cart for reasons that include the shipping time taking too long and 62 percent of shoppers select ground delivery.
Additionally, shippers across multiple industries, ranging from automotive to health care, stand to benefit from this additional operating day. It enables them to add a sixth day to ship and receive, providing an opportunity to turn inventory faster, utilize space more efficiently and increase productivity.
This new offering is seamless to shippers who simply process packages as they always have. UPS shipping systems, such as UPS WorldShip and ups.com, will be automatically updated as ZIP codes are added.
"This is an exciting addition to our suite of services," Finley said. "We are confident that it will help our customers capture market growth."
Companies in this article