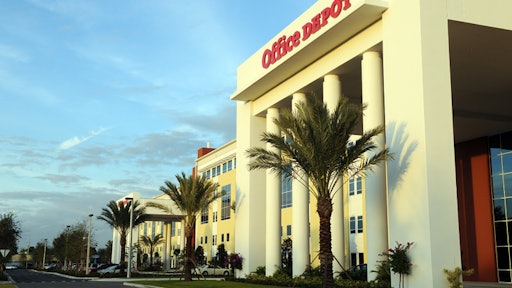 Office Depot saw shares plummet, as it reported weaker-than-expected sales in the quarter ended July 1. But more crucially, the office supplies store admitted that Amazon Business was eating into its corporate services segment.
Shares lost 25 percent of their value on investor fears that the weak quarter was only the beginning of a tough chapter for Office Depot. The retailer is still trying to find its bearings after a proposed $6 billion acquisition by larger rival Staples was scuttled by U.S. regulators last year. (Staples recently said it would be acquired by private equity firm Sycamore Partners for $6 billion in a deal set to close in the coming weeks.)
Office Depot reported quarterly sales fell 9 percent, including a 6 percent drop at stores excluding those that have been closed in the last year. Total sales came in at $2.36 billion, below Wall Street expectations for $2.44 billion, while adjusted profit was 6 cents a share, missing forecasts for 8 cents.
To read the full original article, please click here.