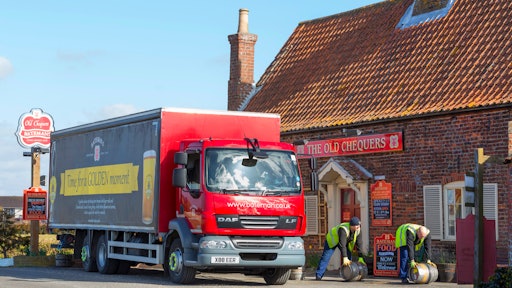 United Kingdom—May 23, 2013—A new fleet of custom-bodied DAF LF 21, 18 and 12 ton HGVs, added to the beer delivery fleet of Lincolnshire-based Batemans Brewery, is designed to increase the carrying capacity of its vehicles.
"Our business has been steadily growing in recent years so we decided to replace our smaller trucks with vehicles which have increased load capacity and that are better suited to meet the demands of our business," said Stuart Bateman, Managing Director, Batemans Brewery.
Supplied on contract hire from Ryder Europe (of Ryder System Inc.), the vehicles have custom-built Bevan curtain-side bodies with a low deck height and low profile tyres and wheels, engineered to reduce loading height facilitating deliveries to pubs that have restricted height access.
"We already had some vehicles on contract hire from Ryder, so we decided to renew and upgrade the entire fleet in one go and combine this with a brand new custom livery on the trucks," continued Bateman. "We are impressed with the level of support, professionalism and flexibility that Ryder provides. We particularly value their expertise in specifying trucks that could not only carry the maximum payload but are designed specifically to facilitate ease of delivery to off-licenses, pubs, major supermarkets and wholesalers warehouses."
Ryder worked in partnership with Batemans for more than a decade to help improve the efficiency and dynamics of its delivery operations, according to John Rice, Director Own Account Sales for Ryder.
"The new vehicles now represent state-of-the-art drinks delivery technology for restricted access delivery points and should enable the brewery to enjoy significant economies of scale," Rice concluded.
Ryder Europe, established in 1971, grew through acquisition and organic development to contain a fleet of more than 24,500 trucks and trailers. Its European business focuses on commercial vehicle rental and contract hire; maintenance; and delivery solutions operating from 30 locations.
Companies in this article