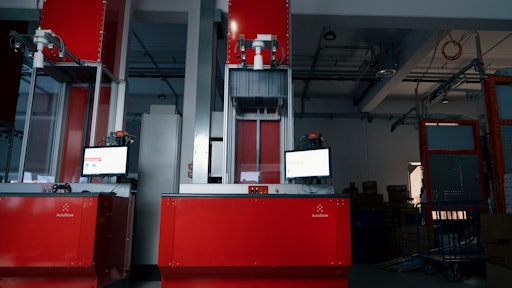 Autostore
AutoStore launched the Bin Lift 2.0, designed to extend the reachability of AutoStore bins in multi-level warehouses.
"Enabling a flexible utilization of space in the warehouse, while extending bin reachability, means customers require fewer square meters of floor space, ultimately reducing costs," says Carlos Fernández, chief product officer at Autostore. "We currently offer this model in the U.S., Canada, China, and Japan in addition to Europe, where the previous version was available. We're excited to help our customers further enhance their warehouse automation with this upgrade.:
From GlobeNewswire:
The newly redesigned Bin Lift offers enhanced performance with upgraded rollers, tracks, motor and electronics, is easier to assemble than the previous model and can be applied in two configurations – grid-to-port (G2P), which allows order picking to happen from a different floor and grid-to-grid (G2G), which optimizes performance in existing multi-level warehouse networks.

AutoStore

bins are durable containers used to hold inventory and are handled precisely by

AutoStore

robots.
"A positive work environment promotes well-being and productivity, and we take this into careful consideration when designing new innovations," Fernández adds. "In the G2P configuration, the Bin Lift 2.0 significantly reduces the noise level for the operator at the Port. The new motor, gear, and its new placement decreases sound intensity from 70dBA to 60dBA, improving the user experience significantly."