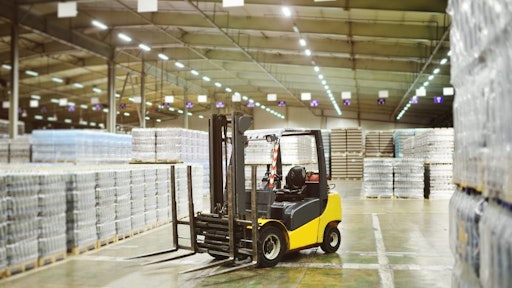 Wedgewood Marketing
As you begin searching for your next forklift purchase, consider buying a used model rather than a new one. There are several reasons why purchasing a used forklift makes more sense. It can save you a decent amount of cash for your equipment and operating budgets and is also environmentally friendly, as it's one less forklift that needs to be manufactured to be bought new. Purchasing used heavy forklift equipment can also give peace of mind that your forklift has had its durability thoroughly tested and has stood up to the test of rugged conditions.
Let us break down the top reasons to purchase a used forklift.
Frequency
If you are looking for used forklifts for sale for your warehouse or industrial material yard and you do not plan to use your equipment all day every day, then you are better off buying a used model. This irregular use is a great opportunity to save some immediate cash as well as some room on your operating and equipment budgets for when you need to buy forklift equipment that you will use regularly.
The applies for forklifts designed for both indoors like cushion tire models, as well as outdoor pneumatic tire models.
Specific use
Order pickers and scissor lifts are an essential part of your forklift fleet and are often the only equipment that can get the job done when it comes to lifting your personnel to heights unreachable by traditional sit-down forklifts. These are called "aerial platform" forklifts and they are commonly used for pulling products for your top racks or reaching high wall and ceiling areas for repairs or other maintenance tasks.
Both order pickers and scissor lifts serve a more singular and specific purpose and therefore are not used as regularly as your traditional sit-down forklift. This specific use makes buying a used order picker or scissor lift a smarter decision.
Environmentally friendly
Manufacturing forklifts uses a lot of fossil fuels and electricity. This is true even for plants that manufacture electric-powered forklifts. Global forklift shipments are expected to reach 3 million by 2026. That is a lot of energy used around the world to produce forklifts that do not always need to be purchased new. When you decide to purchase a used forklift, you are helping to cut away at this environmental cost by repurposing a tried and tested forklift for your operations.
Tested durability
When it comes to heavy duty forklift equipment like telehandlers, you can purchase a used model with confidence that its durability has been thoroughly tested. Telehandlers are some of the most expensive forklifts and some of the most environmentally costly to manufacture. Buying a used model will save you tens of thousands of dollars on your equipment and operating budgets and will make a difference by saving the world just a little bit more of its precious fossil fuels.
Recap
Purchasing a used forklift is one of the best ways to save your immediate operating cash and some room on your equipment budget for when you need to purchase new equipment. Used forklifts are a better option when it comes to irregular or specific use, as well as for forklift equipment that had its durability thoroughly tested through rugged use.
Editor's Note: The following article is brought to you by Used-Forklifts.net in partnership with Supply & Demand Chain Executive.