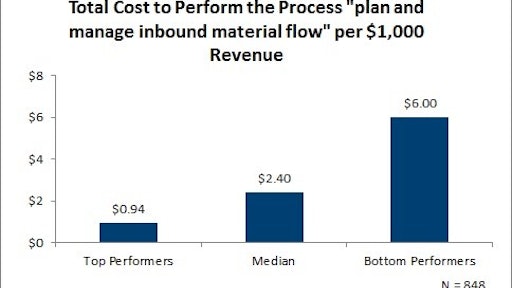 Know what to expect.
The process of planning and managing inbound material flow includes planning inbound material receipts, managing the inbound material flow, monitoring inbound delivery performance and managing the flow of returned products.
As shown in the graph, the American Productivity and Quality Center's (APQC's) Open Standards Benchmarking in logistics shows that there is a $5.06 difference between top and bottom performers in the cost to plan and manage inbound material flow per $1,000 in revenue. This represents a potential cost savings of $25.30 million for an organization with $5 billion in revenue.
One practice that can lead to long-term cost savings in this process is aligning supplier logistics with the enterprise's processes. Additionally, an organization can put technology in place that informs carriers or drivers of time changes, which can minimize wait times and accessorial fees, and thus reduce the cost associated with inbound material flow.