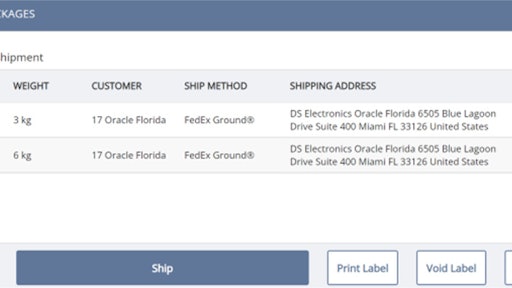 Oracle
To help organizations further improve the efficiency of warehouse operations, Oracle NetSuite unveiled NetSuite Ship Central, a mobile application that helps organizations optimize operations, eliminate manual processes and accelerate customer deliveries.
"Now, more than ever, warehouse operations are under pressure to increase output without additional resources to do so," says Evan Goldberg, founder and EVP, Oracle NetSuite. "With NetSuite Ship Central, we are extending our capabilities to help customers further automate time-consuming warehouse operations to increase output and efficiencies. By making it easier to consolidate shipments, adjust shipping routes for cost efficiency, and customize workflows to meet business demands, Ship Central provides intelligence and insights to further optimize the fulfillment process, decreasing cost and increasing customer satisfaction."
From Oracle:
Ship Central provides end-to-end capabilities for picking, packing and shipping products. It eliminates unnecessary steps in the preparation and shipping process and helps organizations track packages faster, determine the best carrier based on delivery date or location type, print shipping labels, and create documentation.
It also e

nables warehouse workers to quickly find shipments that need to go out by scanning a carton, pallet, or order – or by selecting from a list of shipments.

Identify products going to a single location based on common criteria, including address, carrier or shipping route, then pack it all in the same shipment to boost efficiency and lower costs.