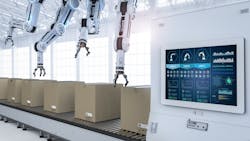 ©phonlamaiphoto - Adobe.Stock
An important step in achieving last-mile delivery and supply chain success is improving warehouse and distribution center efficiencies. Supply chain managers are adding technologies to their systems to keep up with an uptick in e-commerce demand and perennial workforce shortages. Meanwhile, the COVID-19 pandemic and subsequent lockdowns have only fueled consumer expectations for faster ordering and deliveries, quickening the pace of technology adoption.
"E-commerce has seen aggressive growth over the past several years, even before the COVID-19 pandemic," said Adhish Luitel, an industry analyst with ABI Research. "The pandemic triggered an extraordinary increase in demand for online orders. Suppliers are finding it increasingly challenging to keep up with rapidly growing market demand."
DOWNLOAD THIS FREE WHITE PAPER
This 4-part white paper will uncover the logistics behind supply chain visibility, detailing how and what technologies companies are investing in, how companies are working to meet same-day delivery and what forms of technologies are best for mitigating supply chain risks.
The Race to Automation and Visibility, part four of a 4-part White Paper series, details how companies are progressively investing in warehouse technology, which include warehouse execution and control systems, labor forecasting, resource planning and scheduling, returns management systems, real-time capabilities, simulation and modeling, mobile apps and APIs, machine learning and artificial intelligence, cloud-based computing, telematics, mobile robots, wearables and more.