ipopba - Robotics Controls
Registration is open for SCN Summit: State of the Supply Chain Week, a full week devoted to knowledge, education and networking about all things supply chain and logistics.
SCN Summit: State of the Supply Chain Week kicks off June 7 with an Industry Outlook, followed by sessions covering workforce development, food safety, pharmaceutical safety, procurement, risk management, warehousing and transportation.
Register to attend one, two or all sessions with our easy-to-use multi-registrant portal. Chat live with the speakers. Learn, network and more!
Register now: https://event.on24.com/eventRegistration/EventLobbyServlet?target=reg20.jsp&partnerref=ACBM&eventid=3117468&sessionid=1&key=7BB239C1DA3142DEBDF865ABCAC595A2®Tag=2295206&V2=false&sourcepage=register
Our Future of the Supply Chains Week, which took place in December 2020, brought in over 3,300 registrants, 741 unique leads and a 53% attendance rate.
So, register today to reserve your spot!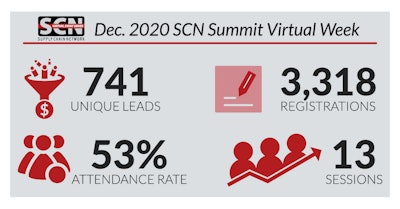 Interested in joining the speaker panel? Let us know.
Register now: https://event.on24.com/eventRegistration/EventLobbyServlet?target=reg20.jsp&partnerref=ACBM&eventid=3117468&sessionid=1&key=7BB239C1DA3142DEBDF865ABCAC595A2®Tag=2295206&V2=false&sourcepage=register