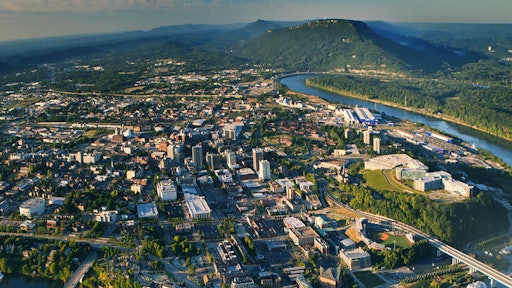 Is Chattanooga, Tenn., the newest "place to be" for cutting-edge logistics companies?
Three technology-based logistics companies are moving to Chattanooga after completing a 12-week accelerator program hosted by the founders of Access America who are eager to make Chattanooga the logistics capital for technology.
Two startup firms, WorkHound of Des Moines, Iowa, and Skupos of San Francisco, are moving their headquarters to Chattanooga after spending the summer working with local mentors and raising investment funds here through the Dynamo program. Another startup firm that participated in Dynamo, the Dublin, Ireland-based Locatible, plans to open its North American headquarters in Chattanooga.
"We're working to put Chattanooga on the map as the capital of logistics, supply chain and transportation technology," Santosh Sankar, the director of the 12-week Dynamo project, told hundreds of investors, entrepreneurs and others during the Dynamo Demo Day today at the Tivoli Theater.
Sankar said the Dynamo accelerator program was born last year "with the audacious goal of supporting exceptional founders focused on transforming an industry worth over $4 trillion." The Dynamo accelerator worked this summer with 10 tech businesses in the logistics industry, ranging from companies finding ways to better pinpoint ocean freight around the world to businesses finding new ways to arrange short-term warehouse storage.
The backers of Dynamo — Ted Alling, Barry Large and Allan Davis — made a fortune in freight and logistics forwarding at Access America and have invested some of those funds back into helping other businesses get started and grow in Chattanooga.
To read more, click here.