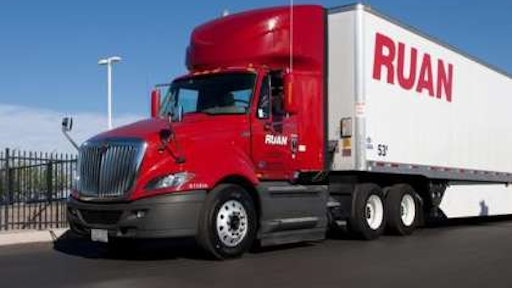 Ruan Transportation Management Systems has reserved five of Tesla Motors' new wholly electrically powered tractor-trailers for testing and delivery in 2019. The new semis were unveiled by Tesla's CEO, Elon Musk, in November.
The 100 percent electric, battery-powered trucks boast impressive features that could allow them to outperform diesel-powered or hybrid models currently available. Among them are improved aerodynamics (with a drag coefficient of .38), a zero-to-60 MPH speed of five seconds without load and a 500-mile range per charge. According to Musk, a 400-mile range will be attainable with just a 30-minute charge from one of Tesla's planned MegaCharger stations.
"These new trucks stand to revolutionize interstate transport and change the way we do business. Ruan has always been a leader in efficient transport and logistics, so it makes perfect sense to explore what these trucks could do for us and our customers," said James Cade, Vice President of Fleet Services.
Ruan plans to add at least five Tesla semis to its fleet in 2019 and will test vehicle prototypes in California before they are delivered. Ruan and Tesla have been in frequent communication throughout the development process, with Tesla inviting Ruan representatives to take part in numerous on-site meetings and discussions.
The price-per-vehicle will be approximately $180,000. Tesla predicts that the electric vehicle will pay for itself within two years due to savings in aerodynamics, reliability and fuel. Some specifics, such as the targeted weight, total operating cost and charging method are still unavailable.
The trucks will have several safety enhancements, such as wrap-around windshields and heads-up displays for improved visibility, as well as Tesla's proprietary Enhanced Autopilot system, with automatic emergency braking, jackknife prevention, forward collision warning and automatic lane keeping capabilities. Other announced features include a near infinite brake life and a drivetrain guarantee of 1 million miles.
"It is our hope that using the Tesla tractor-trailers will eventually reduce our costs, keep our drivers and cargo safer and help us continue our tradition of industry-leading service and reliability," Cade said.