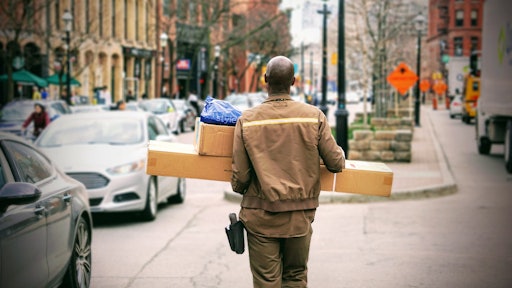 Unsplash
It is no secret that UPS trucks don't have air conditioning in them. However, on hot days drivers develop a routine to deal with the heat: carrying frozen water bottles, wet towels and spare shirts to replace those that have been sweat through. With temperatures expected to reach dangerous levels this weekend, that routine isn't always enough.
The e-commerce has had major impacts on UPS. According to NBC, gross revenue has risen almost 40 percent to $72 billion. In addition, its workforce has grown to 396,000, making the company one of the nation's largest employers.
Despite its successes, UPS still does not air-condition most of its trucks or many of its loading facilities. NBC reports that on hot days the temperature in the cargo area of a truck can reach upwards of 140 degrees - sometimes higher. Meanwhile, drivers allege that conditions are only getting worse.
"Our workload is increasing and we're still expected to get done faster," a driver in Kentucky tells NBC. "I pray every year I don't get a heatstroke."
NBC reports that several UPS workers claim that rising temperatures and the added pressure of delivering packages at a faster has left their bodies deteriorating. At least 107 UPS workers across 23 states have been hospitalized for heat illnesses since 2015 - the only U.S. employer with more heat incidents reported to federal regulators is the U.S. Postal Service.
Despite that, UPS still has no plans to air-condition its fleet and drivers are uncomfortable with complaining about working conditions when the position is one of the nation's best paying jobs for workers without college degrees. UPS says that it doesn't air condition its trucks because frequent stops would render it "ineffective."
The company said in a statement that the number of hospitalizations is small compared to the total workforce, saying that heat makes up just a fraction of total injuries.
UPS has a program, Cool Solutions, that addresses the heat. It educates workers on the symptoms of heat illness, reminds drivers to drink water, seek shade and report to a supervisor if they feel ill.
Even if UPS won't add air conditioning, drivers want the company to adjust routes, loads and breaks so that workers would have the time to rest and recover.
"We just want the company to recognize the fact that sometimes we need to take another break because it's 113 degrees — but they won't acknowledge that," said Maurice Nelson, a union steward who has worked for UPS in Tempe, Arizona, since 1973.
To read the full original article, please click here.