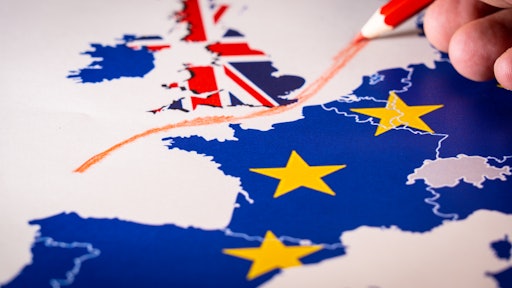 Getty Images
DHL Express is preparing for the impact Brexit will have by hiring an extra 300 customs agents, Air Cargo News reports.
The company's chief executive John Pearson said the company has been hiring at least 50 customs agents a week across Europe as the UK prepares to leave the European Union. It has also secured trucking permits and flying rights in an attempt to minimize the impact of Brexit.
"We are stepping up quite quickly to manage any sort of environment, and customs in the main concern because we are in a position where the movement of goods by road or the movement of goods by air is in such a state that we will be able to continue to service the needs of our customers," Pearson said in a statement. "If you are moving things by road and air and are protected in doing so, the real complication comes from customs and movement of dutiable items through borders, and that is where we are equally well equipped."
However, if a no-deal Brexit occurs, it could potentially effect shipments just as much as any other company. According to Air Cargo News , the company has been working to ensure that Brexit will not affect other UK trades.
Air Cargo News reports that freight groups have urged road operators to apply for international road haulage permits to allow them to transport goods in case a deal cannot be reached, especially since the UK has the most global distribution of flows around the world.
To read the full original article, please click here.