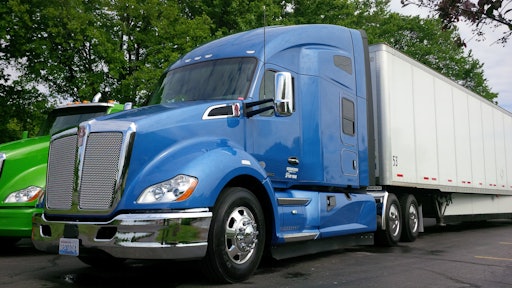 Kenworth Truck Co. and Toyota Motor North America are joining together to develop 10 electric hydrogen fuel cell heavy-duty trucks.
"This is an excellent opportunity for Kenworth and Toyota to work together to both explore and drive the development of advanced zero emission technologies that will plat a critical role in the commercial transportation of the future," Mike Dozier, Kenworth's general manager said in a statement.
The T680s trucks will move freight from the Port of Los Angeles to nearby cities and will chip away at the air pollution problem in the region. All 10 trucks are expected to be in operation by the end of next year.
According to Fleet Owner, the trucks will use a combination of hydrogen gas and air to produce electricity and will power motors to move the trucks. It will also charge the lithium-ion batteries to optimize performance as needed. The trucks should have a range of about 300 miles under normal drayage operating conditions.
Shell Oil Products is also a part of this project and is helping to build several new hydrogen fueling stations in the area.