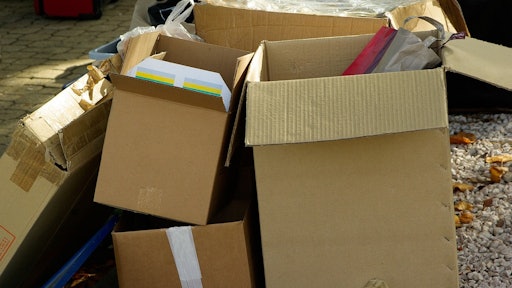 The holiday season brings a series of challenges to the supply chain industry — especially as e-commerce continues to grow. Companies have to efficiently ensure that customers' packages will arrive in a timely matter, putting added stress on the warehouse and transportation sector, which is currently undergoing a labor shortage.
The peak season doesn't end once the holidays are over, though. In fact, reverse logistics makes the busy season last even longer as more people return unwanted holiday gifts.
Supply & Demand Chain Executive discussed how supply chains are vamping their supply chains to keep up with online returns with David Caines, Chief Operating Officer at Kenco, North America's. In this Q+A, Caines discusses the challenges that companies face within reverse logistics and how they can update their reverse chain so that they can better manage their fully supply chain.
SDCE: How can companies prepare for returns during peak season?
Caines: Supply chain executives looking to prepare for returns during peak season should examine their cycle time to identify how long it takes for customers to receive a refund. A look at dock to stock and the time it takes for returned products to be made available for purchase again, will also provide valuable insight into how an organization's returns process is performing. To handle higher returns volumes, supply chains must be constructed to provide transparency and visibility to elevate the post-purchase experience.
Delivering hassle-free returns is critical to retaining customers, and consumers are looking to shop with brands that quickly provide refunds. To achieve transparency, retailers should leverage tracking for returns and offer progress reports on the transaction, which requires an efficient supply chain. Rather than conceding holiday profits because their reverse logistics network is lagging, organizations need to design their supply chains to handle both forward and reverse networks to better manage asset recovery.
SDCE: What challenges arise during reverse logistics?
Caines: Given that most supply chains are not designed to receive items, reverse logistics can put a strain on organizations. The challenge of processing returns in a forward-focused network consumes both capital and valuable time for retailers. To meet consumer demands on the front end, organizations can inadvertently put added pressure on their reverse chain.
Often, overly consumer friendly return policies are encouraging a costly rate of returns. This is evident for even major brands like L.L. Bean, who ended their lifetime return policy this year because it led to "abusive" returns, costing the company $250 million in losses over the last five years alone. In some cases, particular items are consistently being sent back, signaling that inaccurate product descriptions or sizing can overburden reverse networks. While the push to use less packaging materials and increase recycling efforts can reduce a company's carbon footprint and costs, a delicate balance must also be achieved. If packaging fails to adequately protect merchandise during transit, it is more likely to arrive damaged, prompting items to be returned more frequently.
SDCE: How can companies update their reverse chain?
Caines: To optimize the supply chain in both directions, organizations cannot model a reverse logistics supply chain individually, but must treat it as a part of an integrated whole. Organizations looking to update their reverse chain need to take a fresh look at the way the entire supply chain is managed. Businesses that examine the full life cycle of a product from manufacturing to fulfillment to end-of-life can realize improved operational efficiency and cut costs.
Currently, some retailers are leveraging dedicated reverse networks to handle returns, grading out products to be entered back either into regular sales or second channel distribution. Designing facilities specifically for reverse logistics allows companies to process returns more efficiently and effectively, to the benefit of customers and the bottom line.
SDCE: How can reverse logistics be improved?
Caines: A strategically designed reverse network allows retailers to shrink the time frame from the start of the return to when a customer receives a refund. Organizations that empower their brick-and-mortar stores to process online returns can reduce the stress of returns for customers and decrease the amount of time returned merchandise is in the reverse chain.
To help retailers optimize their reverse logistics operations, third-party logistics companies can analyze their supply chains with an eye on the post-purchase process. 3PL partners can provide advice on why returns are happening on the front end and review the history of returns by volume and profile to provide companies with information on what products or time periods are impacting the reverse network. 3PL partners can also help organizations set up the right networks and design their supply chain with returns in mind.
SDCE: What impact has e-commerce had on reverse logistics?
Caines: A seamless purchase experience and improvements in the delivery of goods has made e-commerce shopping easier than ever. However, improving the return experience has become the last frontier for online retailers. Supply chain leaders like Amazon, now offer try before you buy programs, continuing to innovate the industry and change consumer expectations for online shopping. With many retailers offering free or very cheap returns, 40 percent of consumers order multiple sizes of an item according to Forrester. The push for affordable, convenient and timely returns has placed reverse logistics in the spotlight, and brands that are looking to compete with the Amazons of the world will have to strategically design their supply chains to meet the demand.