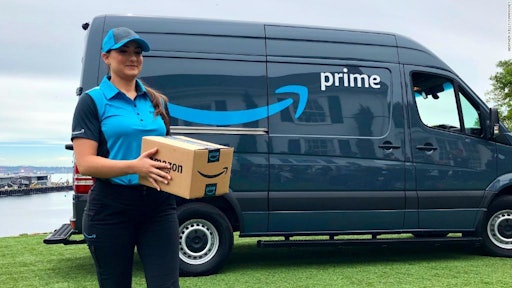 Amazon revealed a new last-mile delivery service, increasing competition between FedEx, UPS, DHL and USPS.
The Delivery Service Partners program, announced Thursday, is designed to let entrepreneurs run their own delivery networks of up to 40 vans embarked with Prime logos, CNBC reports.
According to CNBC, each delivery unit will start at an algorithm-determined Amazon fulfillment center and are sent to delivery partners like FedEx and UPS. The new program is set to scale costs and help meet the growth in e-commerce.
According to an eMarketer estimate, more tahn 40 percent of all e-commerce purchases will be made on Amazon this year. The e-commerce giant has maintained relationships with external delivery partners and will utilize them to meet its needs.
In its latest 10-K FILING, Amazon cited shipping costs - including sorting, delivery center and transportation expenses- skyrocketed to $21.7 billion in 2017, compared to the $11.5 billion in 2015. The company expects shipping costs will continue to increase while a driver shortage remains in the trucking industry and fuel costs surge.
Entrepreneurs will be able to run operations under Amazon's name, effectively bringing more of the costs and customer service under its control, CNBC reports. Ultimately, the company will get hundreds of small businesses started and will ultimately hire "tends of thousands" of new delivery drivers across the country.
Delivery Service Partners can start a business with as little as a $!0,000 investment, CNBC reports. Once a partner is vetted and accepted by Amazon, a Prime-branded vehicle will be leased to the entrepreneur and they are in charge of recruiting and hiring drivers. The company will offer discounts for costs incurred to run the business such as fuel, insurance and benefit programs.
The new service i just another part of the company's logistics network. It currently has 7,000 of its own trucks and 40 airplanes that shipped more than 5 billion Prime items last year, CNBC reports.
Once news of the Delivery Service Partners broke, shares of FedEx and UPS were down by 2 percent.