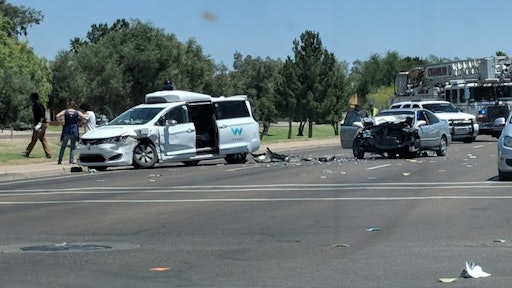 A self-driving minivan being tested by Waymo was involved in a crash over the weekend, Verge reports.
Images showed the minivan with its side caved in and another vehicle with its front end smashed.
Chandler, Arizona police said that the Waymo vehicle was in autonomous mode with an occupant behind the wheel at the time of the crash. However, the vehicle was not at fault for the crash. The police said that a Honda sedan was traveling eastbound and had to swerve to avoid striking a vehicle that was traveling northbound. As the Honda swerved, it struck the Waymo vehicle. The driver monitoring the Waymo vehicle sustained minor injuries.
Waymo released a short clip of the crash that was captured by the vehicle's camera.
In March, an Uber that was driving in autonomous mode struck and killed a pedestrian. The crash led Uber to halt its self-driving tests and has been receiving continuous backlash. Waymo CEO John Krafcik publicly said that his technology would have avoided the crash.