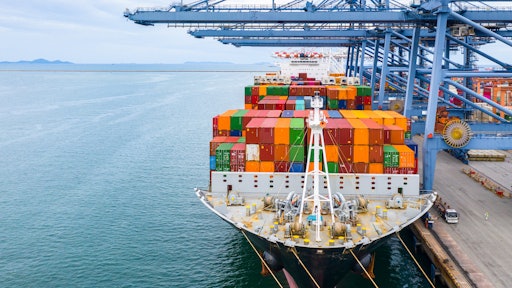 Kalyakan - stock.adobe.com
The Israel-Palestine conflict, marked by recent violence between Israel and Hamas, has sent ripples through the shipping and maritime industry, leading international companies to issue cautionary advisories and adapt their operations in the region, according to research from Container xChange.
"In light of recent developments in the Middle East, including the outbreak of war in Israel and its vulnerability to missile attacks and the incursion of opposing militias, the security of transporting goods through the port of Haifa has become uncertain. The transit of containers, especially hazardous materials, and the arrival of commercial vessels greatly emphasize the importance of security on this route. Such insecurity or potential terrorist attacks could lead to a shift in the transportation of goods," says Hossein Norouz Fashkhami, senior marketing expert from Middle East.
"The Israel-Palestinian conflict serves as a reminder of the uncertainties facing ambitious trade projects like the India-Middle East-Europe Economic Corridor (IMEC), positioned as a Western counterpart to China's Belt and Road," says Christian Roeloffs, co-founder and CEO, Container xChange.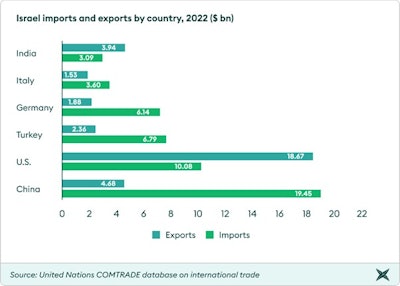 Key takeaways:
Maersk announced that its port operations across Israel's key terminals are functioning without disruption. MSC echoed this sentiment, asserting that Israel's major terminals are operational, enabling them to facilitate cargo delivery.

However, the specific impact on individual ports tells a compelling story.

Port of Ashdod, situated 50 kilometers from the Gaza border, is operating in an "emergency mode" only, subject to potential missile attacks. Furthermore, restrictions on vessels carrying Hazardous Materials (HAZMAT) remain in effect.
In contrast, the Port of Haifa, encompassing the Haifa Bay port and Israel shipyard, continues with business as usual.
Located just 15 kilometers from the Gaza border, the Port of Ashkelon is severely impacted, rendering it incapable of normal operations due to missile threats.
The Port of Hadera, in comparison, carries on without disruption, maintaining its regular functions.
The Port of Eilat also remains operational.

Beyond the ports, several global companies with a presence in Israel have been forced to adjust their operations. Chevron was directed by Israel's energy ministry to shut down the Tamar natural gas field off the country's northern coast.

Adani Ports, operator of the Haifa Port, is closely monitoring the situation and has a business continuity plan in place.

Israel's trade with China is characterized by a notable trade imbalance, with China being a major importer of Israeli goods. While Israel's exports to China are substantial at $4.68 billion, the conflict may disrupt trade flows, particularly concerning Israel's high-tech exports.

The United States is a critical trade partner for Israel, with a strong focus on exports. Israel exports goods worth $18.67 billion to the United States, including high-tech products and defense-related items. The conflict may strain diplomatic relations between the two countries, potentially impacting Israeli exports to the United States.

Germany is a key European trade partner for Israel. The conflict might impact Israel's exports to Germany, valued at $1.88 billion. As Israel navigates regional instability, German imports from Israel could be affected.

India is another crucial trading partner for Israel, with $3.94 billion in Israeli exports. The conflict could have an impact on bilateral trade, potentially leading to disruptions in Israel's exports to India.

In the near term, the Suez Canal remains the primary route for goods from India to Europe. This conflict underscores the enduring complexities of reshaping global trade and financial routes, highlighting the unpredictable nature of such endeavors.
"In the case of the conflict in Israel, any expansion of the hostilities beyond the country's borders could introduce risks to two vital shipping choke points. The Suez Canal, a critical waterway for various commercial vessels, including container ships, may face disruptions. Similarly, the Strait of Hormuz, a backbone for oil and gas shipping, could be affected. However, the extent of these effects will largely depend on the conflict's expansion and duration," adds Roeloffs.