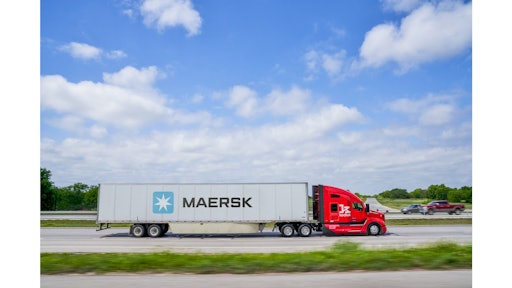 A.P. Moller - Maersk
A.P. Moller - Maersk and Kodiak Robotics, Inc. launched what is dubbed as the first commercial autonomous trucking lane between Houston, Texas, and Oklahoma City, Okla.
"Teaming with Kodiak enables Maersk to stay at the forefront of innovative solutions. Autonomous trucks will play an instrumental role in digitizing the supply chain. We expect self-driving trucks to ultimately become a competitive advantage for Maersk as we execute on our strategy to provide customers with a sustainable, end-to-end logistics solution across air, land, and sea," says Erez Agmoni, Maersk's global head of innovation, logistics and services.
"Autonomous trucking solutions have the potential to address long-term challenges faced by the trucking industry. According to the American Trucking Association, the trucking industry faces a shortage of roughly 78,000 drivers. The ATA estimates that, based on current driver demographic trends, as well as projected growth in freight demand, the shortage could swell to more than 160,000 over the next decade," adds Don Burnette, founder and CEO, Kodiak.
Key takeaways:
The freight lane marks an expansion of the collaboration between Kodiak and Maersk, which began with their first autonomous freight deliveries together in November 2022.
Kodiak and Maersk are completing four round trips per week on a 24-hour-a-day, four-day-a-week basis between a Houston facility, where consumer products are loaded onto 53-foot trailers, to a distribution center in Oklahoma City.
Operational learnings gained from the activity are captured and documented as part of the Kodiak Partner Deployment Program, designed to help companies learn how Kodiak's self-driving trucks can become an integral part of their overall logistics strategy and offerings.
CLICK HERE to register for the upcoming Women in Supply Chain Forum, where Agmoni will assist on a panel about DEI efforts.
Companies in this article