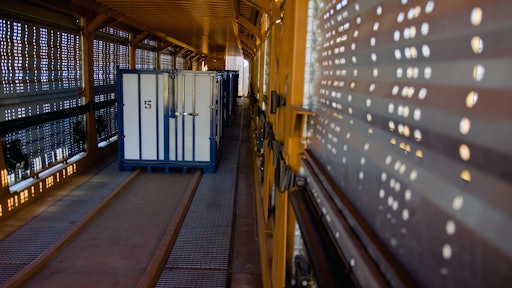 Pro-Tech Group
Pro-Tech Group, LLC demonstrated what is dubbed as an industry-first mobile container system that utilizes empty autoracks on return trips to carry freight in a more sustainable manner.
The pilot test transported pallets of new wheel rims from California to an automobile assembly plant in Michigan.
"The Pro-Tech Container provides companies a sensible and cost-effective alternative to shipping over highways without disrupting their existing logistics and operations," says Earle Higgins, Sr., chairman and CEO of Pro-Tech Group. "By utilizing space in autoracks that otherwise would return empty to auto plants or other pick-up destinations, there is a twice-fold environmental benefit with these unique cargo containers."
From GlobeNewswire
The company's logistics system is designed around efficiently loading Pro-Tech containers into empty deadheading autoracks for delivery to key hubs across the country.

The steel-framed, hard-side containers provide a pilfer-resistant and controlled shipping environment for two standard 48x40 pallets loaded with variety of parts, assemblies and other goods.

A bi-level autorack can be loaded with up to 18 Pro-Tech containers holding 36 pallets.