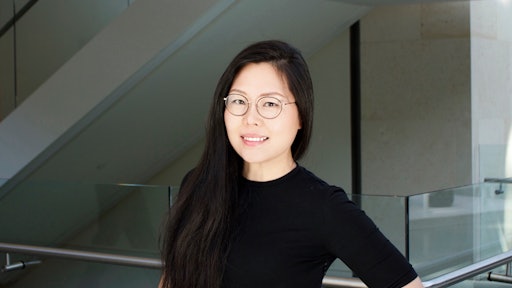 ISEE.AI
It was 2017 when Debbie Yu, Yibiao Zhao and Chris Baker set out to build the first artificial intelligence (AI) solution designed to navigate an unpredictable world. Their vision was to enable flexible autonomous solutions that create safe, efficient and consistent work environments.
The company they founded, ISEE, automates repetitive tasks in warehouses, shipping yards and depots using autonomous trucks and other software based on its AI technology.
But for Yu, this concept isn't just about AI innovation or supply chain operations. She says the magic happens when you bring innovations and operations together.
"ISEE's inception was driven by the need to enhance efficiency and safety within logistics and supply chain. As we searched for the perfect application for our autonomous technology, we engaged with many people in all aspects of the supply chain. It was through these conversations that it became clear that yard automation stood to benefit massively," says Yu, co-founder and president of ISEE.AI. "In the end, automating these yards also ties back to my appreciation for hard-working people. Our technology eliminates repetitive, tiring tasks, making a tangible difference in workers' lives."
With over 10,000 completed autonomous yard truck moves at customer warehouses and facilities, ISEE is said to be the first and only company to achieve fully autonomous operation in the logistics yard space. Under Yu's leadership, ISEE has grown its customer base from scratch to multiple Fortune 100 companies, has hired over 100 employees and raised over $70 million of venture funding.
Yu's experience spans building startups, investing, and strategy. Before co-founding ISEE, she was an angel investor in over 20 early-stage tech startups. She was born in mainland China to entrepreneurial parents, speaks three languages, and traveled and volunteered in various countries to build clinics and schools.
It's these reasons and more that warrant Yu Supply & Demand Chain Executive's 2023 overall Women in Supply Chain winner.
The Women in Supply Chain award honors female supply chain leaders and executives whose accomplishments, mentorship and examples set a foundation for women in all levels of a company's supply chain network. This year, Food Logistics and Supply & Demand Chain Executive received over 400 submissions, the highest amount of applications not only for this award, but also for all of their awards, but what separates Yu apart from the others is her ability to build upon her background, her knowledge base and her willingness to make the impossible possible, with one of those positioning ISEE to become a leader in the $100 billion global autonomous yard truck market.
"Autonomous driving technology's growth is unmistakable. We've put the world's first fully driverless autonomous yard trucks into customer operation, and the trend is set to continue. With each deployment, more operators in the supply chain will learn the benefits of autonomous vehicles, including addressing the labor shortage and enhancing worker conditions. While it will take time, the technology's impact will become more widespread, benefitting safety, cost-efficiency, and reliability," says Yu.
Using AI to improve efficiency and safety with the supply chain
Unlike several supply chain leaders, Yu does not come from a logistics background; her parents and grandparents started out as mine workers. Eventually her parents worked their way up to become executives with the company, and then founded their own mining company, but it was their spirit, grit and determination that brought out the entrepreneur in Yu and inspired her to improve the safety and working conditions of workers.
"The working conditions were challenging and by witnessing their dedication and hard work, I developed a deep empathy for those working in challenging conditions," Yu adds. "Early in my career, I was fortunate to build experience through banking, consulting, and technology ventures. This gave me valuable business acumen, guiding me in creating technology and products in a capital-efficient way and focusing on product market fit. The entrepreneurial spirit, combined with a passion for AI innovation, has driven me to create something new and impactful. This all led me to co-found ISEE, where our focus on autonomous driving technology emerged as a means to revolutionize the logistics field, making it safer and more efficient."
ISEE autonomous vehicle technology improves overall performance and operational costs for warehouses, shipping yards, and depots using self-driving yard trucks across industries such as e-commerce, retail, automotive and logistics. Designed to interact with human environments, the ISEE autonomous system anticipates the actions of yard workers and other vehicles and allows customers to safely automate their existing yards without disruption.
"ISEE's inception was driven by the need to enhance efficiency and safety within logistics and supply chain," Yu says.
ISEE's inception also centers around being "customer centric" and "humanistic," two values Yu personally feels are important values to uphold.
"Being customer-centric involves listening to our clients' feedback and adapting to their needs. To deliver products to our customers, we need to know their pain points. Being humanistic means we always carry empathy for each other. Understanding where your teammates are coming from fosters a supportive and effective work environment. This helps us all grow and develop together," Yu says.
Yu is also committed to empowering women in the supply chain. She fosters a culture where employees feel a sense of mission and value their diversity as the strength behind their technology and continuing innovation. For instance, women hold 40% of senior leadership roles at ISEE, with 90% of the ISEE leadership team being ethnically diverse. And over 60% of the ISEE employee population is of diverse ethnic origins as well.
Yu is also an active member of Chief, is involved in several other professional organizations, including World Economic Forum, Mobility Association for the Advancement of Artificial Intelligence and Council of Supply Chain Management Professionals (CSCMP), and is a positive example of women succeeding in the AI technology, supply chain, and logistics industries.
"Many workplaces, especially in technology, do not reflect the same demographics as their customers. As a woman, I bring my unique history, perspective, and approach to my work at ISEE and with ISEE customers," Yu says. "I mentor female founders at other companies, sharing insights and promoting leadership. Serving as a judge for an MIT startup competition, I'm actively engaged in the startup community, sharing my experience to empower more female leaders."
What also separates Yu from the other Women in Supply Chain winners is her ability to turn a challenge into a "gift" that drives results.
"For example, one thing I have learned about the people in the supply chain industry is that they are very straightforward and honest. They aren't afraid to tell you what they think about your product, whether it's good or bad. This helps us tremendously to focus on the right problem to solve when we build our product. By being open, listening, and truly valuing customer feedback, we deliver better solutions," she adds.
In addition to the results above, Yu has turned other challenges into strengths and encourages others to do the same.
"Navigating societal biases that favor male leaders has been a challenge. While this can be frustrating, I've focused on achieving results to earn respect. I've channeled this motivation into problem-solving and hard work. Overcoming these challenges isn't just about personal success; it's about paving the way for all women in the tech and supply chain fields. I tell other rising women that respect follows when you put in the work and make your expertise shine brightly," she adds.
And, while becoming an expert in your field is paramount to success, Yu advises newcomers to the supply chain industry to understand the problems, value the customers, foster active curiosity and engage with various roles.
"I learned a lot through talking with warehouse managers and truck drivers at each customer site, who always can provide great insights into how we can improve our technology and product. When you find a peer or leader you respect, foster a relationship with them. Whether it's a formal mentorship or not, you will be amazed at how generous people are with their time to share their experiences to help you grow," Yu says.
"The supply chain sector is in an exciting phase of innovation. I urge everyone, from customers and employees to investors and government bodies, to join us on this journey to make the supply chain sector safer and more efficient. Together, we can make society better through technology, energizing us to work towards a brighter future every day," she adds.