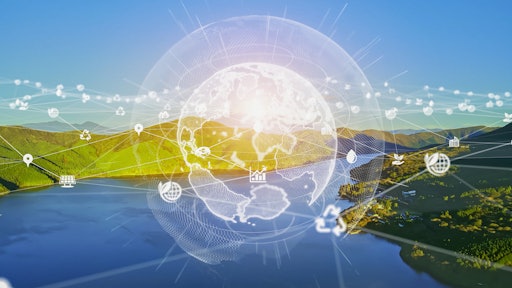 metamorworks/stock.adobe.com
There is a shift happening in the supply chain and logistics industry that's elevating sustainability from simply an aspiration to our must-do lists. This is in part due to enacted emission disclosure requirements from the European Green Deal and proposed rules by the U.S. Securities and Exchange Commission (SEC) to enhance and standardize climate-related disclosures for investors.
The heightened focus on sustainability in our industry also comes from understanding that the logistics and transport sector contribute more than a third of all global CO2 emissions, according to the International Organization for Standardization (ISO). This puts us squarely in a driver's seat to be a force in reducing our industry's climate impact for ourselves and the generations to come. Simply put—as humans inhabiting this planet, we want to be part of the solution.
There's also public pressure. A 2023 Gartner study on the future of the supply chain found that more than 50% of customers today will only do business with companies that practice environmental and social sustainability. With more attention on sustainability and climate action, that percentage will likely keep trending north. This will have a direct impact on many companies' bottom lines, forcing organizations that have put off prioritizing ESG initiatives to not only develop sustainability policies but put them into action quickly to meet consumer demand.
Transparency And Data Visibility Drive Progress
A significant amount of progress has been made in recent years in bringing transparency and real-time data visibility to our collective supply chain activities. This has been driven by new and emerging technologies that are being enlisted to show real, measurable progress toward cutting carbon emissions. Technologies such as artificial intelligence (AI), alternative fuel vehicles (AFVs) analytics, Internet of Things (IoT) enabled devices, electrification, telematics and predictive/prescriptive analytics are pivotal to this huge leap forward to lower the industry's environmental impact.
Leveraging these technologies, nearly a billion metric tons of emissions have already been eliminated by the supply chain and logistics industry over the last few years. Through transparency and data visibility, shippers now have access to actionable data so they can make better decisions about the most environmentally friendly transportation mode for their needs. This is significant progress that can't be understated as the industry continues to work together to significantly reduce our carbon footprint.
Transportation Mode Matters More Than Ever
According to the U.S. Environmental Protection Agency (EPA), transportation is among the three biggest contributors of carbon emissions. Over-the-road trucking is a major culprit, so having options on how freight is shipped is important. By adopting a modal agnostic mindset, shippers can make decisions to move freight in the most sustainable mode at the time—while opening opportunities to combat carrier capacity constraints when they occur, reduce costs and move freight faster.
Multimodal logistics and transportation providers have access to a variety of different carriers and modes to move freight. They handle the entire shipping process by picking up freight at its origin and delivering it to its final destination. It doesn't matter how many transportation providers are involved in moving freight and the provider handles any problems that arise enroute.
According to GlobalTrade, one of the key benefits of working with a multimodal provider is better environmental sustainability. But there are other benefits to multimodal that make good business sense as well including faster delivery times, cost optimization, improved load capacity and increased security of goods.
Electrification of the Fleet
Regulations on transportation emissions continue to increase, with the U.S. EPA announcing in April 2023 its proposal for more stringent greenhouse gas emissions standards for heavy-duty vehicles starting in model year 2027. This includes delivery trucks and day cabs and sleeper cabs on tractor-trailer trucks. The EPA's aim is to significantly reduce greenhouse gas and harmful air pollution across the on-road sector.
Yet, an even greater step toward environmental progress in the supply chain and logistics industry is the electrification of commercial trucks. More truck makers are introducing electrified commercial vehicles to help the industry transition away from carbon emitting internal combustion engines. Electrification is now available on everything from heavy goods vehicles (HGVs) to last-mile trucks. Logistics providers that invest now in an electrified fleet will be well positioned to provide shippers with more environmentally friendly modes of transportation down the road.
A notable effort in sustainability within supply chains is the Sustainable Freight Action Plan (SFAP) and the Advanced Clean Fleets (ACF) Acts from The California Air Resources Board (CARB). The SFAP was adopted in 2016 and outlines several strategies for reducing greenhouse gas emissions from freight transportation in California. The ACF Act is designed to accelerate the market for zero-emission trucks, vans, and buses and to help California achieve its goal of a zero-emission truck and bus fleet by 2045. This trend is expected to continue in the years to come, as businesses increasingly recognize the benefits of sustainability.
Sustainability Can Increase Economic Value
There are many forces that have moved sustainability from a talking point to an action item for shippers and carriers. Emission disclosure requirements, consumer pressure and a desire to be good stewards of the planet all rank high.
If designed and executed properly, sustainability can do more than protect and improve the environment. It can help shippers and carrier partners build stronger, more profitable supply chains by finding new ways to reduce costs, improve margins and better serve every organization and person along the supply chain.