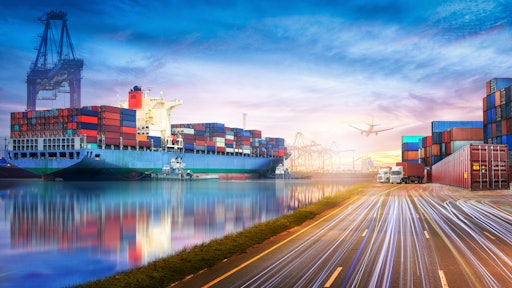 enanuchit/stock.adobe.com
The supply chain is under a ton of pressure right now while facing a myriad of challenges. From rising transportation costs to delays at key transfer points, the industry just can't catch a break. And things aren't expected to get better overnight. E-commerce is expected to continually grow, and consumer demand is driving the need for better operations.
The higher ups have also taken notice, and they've made it clear that they're determined to try and fix the supply chain challenges. The Biden Administration recently announced its Freight Logistics Optimization Works (FLOW) plan, which sets the groundwork for an information sharing initiative to pilot key freight information exchange between parts of the goods movement supply chain. By addressing supply chain vulnerabilities and congestion, the goal is to speed up the movement of goods and lower costs that trickle down to families.
Ultimately, it's a step in the right direction. But it missed the mark.
The initial list of 18 participating companies represents diverse perspectives across the supply chain, including private businesses, warehousing, logistics companies, ports and more. However, with the goal being to share information among the various players along the chain, the group of participating companies/entities didn't include anyone who makes it easier to share that information – logistics technology companies.
Understanding the complexity of the supply chain
If there's one thing we've learned, it's that every company has its own unique set of challenges that it must overcome. For example, one port might have trouble getting trucks in and out of facilities to move containers out of yards while another port might not have that hurdle. Instead, it could have more back-office billing or freight visibility hurdles. Additionally, the challenges a port faces are very different from those of a railroad company or trucking company.
Then, take into account the hurdle of interoperability, which exists because every shipper, carrier and receiver uses a different set of tools across all sophistication levels. There could also be a few different tech providers that offer a solution to a challenge, but it's all built using different base coding languages. So it's hard for any one provider to have integrations across electronic data interchange (EDI), application programming interface (API) and, in many cases, paper – that remains the common form of data transfer along the supply chain.
It's important for all those involved in the movement of goods to analyze their operations and understand the hurdles that every department in their business faces. Only then can the company search for ways to improve operations, and part of that process should be determining whether or not technology can be an effective option. And while logistics technology can often be the customizable or plug-and-play solution that so many shippers, carriers and receivers seek, there's not a "one-size-fits-all" solution for every player along the supply chain.
Why the FLOW initiative matters
Last year, the ports and the private sector moved a historic amount of goods with record holiday sales and delivery times below pre-pandemic levels. When goods get held up, it can become costly for businesses. Whether it is lost product like food spoiling or an order that is late to its arrival, it can cost the shipper either a significant amount in monetary losses or damage the company's reputation – which then becomes harder to recover in the eyes of consumers.
The longer-term weaknesses in the United States' supply chains are the result of decades of underinvestment, outsourcing and offshoring instead of investment in long-term security, sustainability and resilience. While the infrastructure bill that is currently making its way through Congress will be an investment in ports, highways, and other parts of the physical infrastructure, the gap remains large on the digital front.
The costly delays add up. When original equipment manufacturers are short on equipment and parts to produce their goods, that's where the delays start. As demand peaks, prices will continue to rise all across the supply chain – eventually hitting the end consumers' pockets. A concerted effort to improve both the physical and digital infrastructure across the supply chain will create efficiencies aimed at speeding up the movement of goods in hopes of lowering costs.
Where FLOW can improve
As the FLOW Initiative aims to produce a proof-of-concept freight information exchange by the end of the summer, it's important to understand what is really being asked of these companies – to share data more freely with each other. Data is so valuable for businesses. By properly compiling information and analyzing, companies can benchmark against their key performance indicators and derive actionable takeaways that create more efficiencies, which can ultimately improve profit margins.
Businesses are usually hesitant to share that information openly – especially if it is proprietary, which presents yet another challenge in the supply chain. Additionally, going back to the interoperability discussion from earlier and the different types of technology that each participating company uses, it might be difficult to collect key information and easily share it with the other partners of the FLOW Initiative.
Instead, logistics technology providers should have been included in the original group. These vendors build the technology that the participants use, and they can more easily tune their solutions to find the data needed to more quickly improve the hurdles the other participants face. Also, logistics tech providers can improve their solutions by creating APIs that facilitate the transfer of data from either one solution to another or between companies.
Another segment missing from the original list of participants is the trucking, logistics and other supply chain associations who have been working on addressing this problem on an individual level. For example, the Digital Container Shipping Association, the Consumer Brand Association task force and the Digital LTL Council who have been working on processes to introduce more technology and digital processes to their partners and the segments of the supply chain they work in.
In either case, the goal of the FLOW Initiative is to share information more easily, which tech providers and industry associations have a significant role in doing. The government-led initiative could more easily pull all these resources together and further advance the adoption of technology and the sharing of data more freely.
So, while the creation of the FLOW Initiative is slightly moving the needle in the right direction to overcoming challenges, it could have been even better from the outset by including these key stakeholder groups. With so many hurdles to clear, it will still take time to make sweeping changes that improves the resiliency of the U.S. supply chain. However, with every incremental change that is implemented, more efficiencies will be created, and eventually it will result in easing the pressure on companies across the entire supply chain.