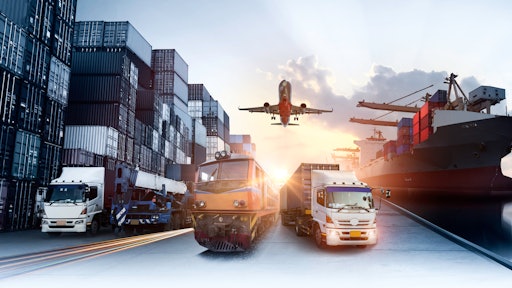 Travel mania/stock.adobe.com
It has been a long journey for the supply chain since March 2020, when the Coronavirus (COVID-19) pandemic set off a chain of events that made the world think of the industry very differently. Logistics and warehousing moved from a necessary cost, where executives looked to save the most money possible, to a major role that needs significant strategy behind it. In those past two years, planes, trains and automobiles (and ocean freighters) still move your goods – but with major new factors to consider.
Supply chain shortages continue to make headlines, while at the same time major retailers report serious surpluses of other goods. But what problems does the logistics industry really see right now and how could a pandemic really lead to all these problems even when the United States is free from previous lockdowns?
The long history of looking for the lowest costs for all things logistics pushed operations farther and farther away then their end destination, geographically speaking. Shippers looked for the cheapest sourcing and procurement avenues, which led much of the supply chain to China. Here is where the strictest lockdowns related to COVID-19 outbreaks still occur today, and the manual labor needed in various areas of the supply chain come to a grinding halt during these shutdowns.
'The global public health concerns in China have forced shippers to think about diversification in their supply chain," says David Spencer, director of business intelligence at Arrive Logistics. "The last few years has required the evaluation of how we consume, how we get our products, how much we rely on suppliers, how much control we have over shipping rates, how much we can control access and availability of supplies and commodities."
Additionally, consumers now shop differently than they had pre-pandemic. But this shopping behavior isn't exactly staying the same. It is not a steady of stream of continued to online buying like retailers saw in the early pandemic days.
There was a rapid increase in e-commerce, with some markets seeing what would normally be years of growth compounded into a few months. This not only put pressure on product demand, but it changed the logistics industry's peak season timeline.
New markets that previously never had an e-commerce presence such as food and drug industries suddenly now have full-fledged retail through online and delivery. Add that to a demand for faster shipping times mixed with a growing labor shortage, and the transportation industry is in strange new territory. Many experts in the field say they have never seen more bottlenecks and price increases across all retail sectors as well as modes of shipping.
The way shipments are fulfilled and shipped is now entirely different.
"In the past, the typical supply chain for a large shipper consisted of a relatively small number of large distribution centers strategically located across the country," says JJ Schickel, CEO of Omni Logistics. "Shipments were often moved via full truckloads to retail locations. Compared to today's shipping tempo, these truckloads were relatively infrequent.
"However, as consumers' purchasing shifted online, so too did expectations regarding the delivery of those orders. Seemingly overnight, shipping that took longer than two days was perceived as too slow. To address this demand, many supply chains now consist of numerous smaller distribution centers that are strategically located much more closely to consumers' homes. This facilitates the quick shipping times consumers have come to expect and demand. Increasingly, retailers are utilizing brick and mortar locations (in some cases former retail locations themselves) as small warehouses to facilitate fast distribution times, especially in urban areas."
But through this disruption comes innovation; a concept many in the industry discuss at length since the start of this turbulence.
Visibility
The current buzzword in logistics today is visibility. The shortages and uncertainty in the industry put everyone working in the supply chain in a position where visibility is necessary, and it needs to be accurate and in real time. Greater application programming interface (API) connectivity emerged throughout the past few years, which helps technology providers fill this need.
Additionally, data science and machine learning elevate the visibility concept further, creating planning tools to drive efficiency in day-to-day operations as well as fix complex problems in much less time. But is not just the backend of the software that continues to innovate. New improvements to the user experience in much of these platforms drives efficiency as well as worker satisfaction for employees.
"A heightened need for more visibility within supply chains emerged at the beginning of the pandemic as shippers struggled to see beyond their first and second-tier suppliers, secure inventories in a timely manner, and monitor the movement of inventories throughout supply chains, from end-to-end," says Brian Broadhurst, SVP supply chain consulting, Transportation Insight. "Artificial intelligence (AI) and data analytics are playing an increasingly important role in supply chains in regard to real-time monitoring and acting on the demand and flow of all raw materials, and goods down to the SKU level."
Some technologies existed for years but only now are logistics companies taking advantage of them, as the need to change and improve is so severe.
For instance, Bryn Heimbeck, president, Trade Tech Inc. explained that despite the internet's existence for 25 years, only now are logistics companies embracing a browser-based system available worldwide and satellite tracking was created 30 years ago, and transportation management systems (TMS) are only integrating this now.
Beyond data
Despite the supply chain's fascination with the concept of visibility, it is not the only thing happening in supply chain tech.
Automation is prevalent throughout the entire chain, from sourcing to manufacturing to warehousing and to transportation. For logistics specifically, there is greater reliance on guided driving and driverless technologies. While a fully autonomous fleet of trucks is still far from a common occurrence, there is a variety of lesser levels of the technology that help make the driving experience safer, easier and more comfortable.
Trucks are not only getting more autonomous, but many are going electric as well.
"New technology gathering data on supply chain greenhouse gas emissions is one of the biggest steps forward in the past two years to support supply chain decarbonization and help meet sustainability goals. Sustainability is one of the top 10 priorities for CEOs in 2022, according to Gartner," says Bart De Muynck, chief industry officer at project44. "Ranked number 8, it is the fastest climber with a 292% change from 2021 and up from 13th position in 2020.
"While CEOs are starting to implement an array of sustainable measures and ESG initiatives to improve their carbon footprints, they're completely missing the biggest contributor of all: indirect emissions," he adds. "Supply chains are responsible for 60% of emissions, yet no businesses are taking responsibility. This is because there is a lack of knowledge surrounding sustainability within supply chains and the connected businesses.
"While Scope 1 and Scope 2 emissions are easier to control, Scope 3 emissions are more difficult to measure yet account for 60% of total emissions. One of the fundamental problems of decarbonizing the supply chain is accessible and accurate data. Accurate visibility into a business' Scope 3 footprint is the first step to help fundamentally reduce emissions."
The move towards decarbonization is prevalent throughout all modes of logistics, not just trucking but in ocean, intermodal and air cargo as well.
For example, Etihad Cargo entered into a memorandum of understanding (MOU) with B Medical Systems to develop and launch an airline-specific passive temperature-controlled solution for pharmaceutical transports. The units will be able to retain refrigerated temperatures without needing an external power source and reducing carbon emissions, according to Etihad's SVP of global sales and cargo, Martin Drew.
Others continue to seek data and other technology innovations to better understand their carbon emissions and reduce them. Henk Jan Gerzee, chief product officer, Digital Container Shipping Association (DCSA) believes that digitalization is the path to sustainability in ocean freight and beyond.
"Companies that adopt digital standards will also be leaders in the sustainability movement, which, in the coming decades will become a major focus for governments and the logistics industry," he says. "Digitalization will reduce paper waste, but more importantly, timely and accurate data will enable efficiencies that lead to reductions in fuel consumption and greenhouse gas emissions."
State of ocean freight
The digitalization movement of ocean freight is slow moving but will likely move throughout the industry in a deep way. Some of the hardest hit aspects of the supply chain were seen in ocean freight and at ports throughout the past two years. The blockage of the Suez Canal and the long dwell times at major ports stressed an exceedingly damaged supply chain to its breaking point.
For now, congestion remains and with it will higher rates. According to Heimbeck, importers maintain legacy processes at destinations, which will continue to drive congestion.
"Congestion has a direct impact on freight rates," he says. "Terminal congestion that is beyond the carrier's control; terminal congestion means there is no point to bring on additional vessels. The vessels would simply have nowhere to go and the delays both in the terminal and getting into the terminal effectively reduce the existing capacity by 30%.
"The real ultimate ownership of the issues remains at the feet of the importers – do not buy more product than your warehouse capacity. Don't expect to use other parties' assets for free and while so doing denying their usage to the exporter. Note that this applies to US importers and exporters. There are importers and exporters in other countries."
Others believe that automation in our ports may bring more ocean liners. Fox Logistics CEO Matt Lawrence says that United States ports will continue to invest in automation to do just that while also increasing channel depth to allow larger vessels to dock. However, as discussions of near shoring continue to steer the supply chain closer to home, freight volumes from Asia will decrease, reducing wait times at West Coast ports.
Because the Californian ports act as a point of entry from Asia, the Port of Los Angeles and the Port of Oakland saw the most congestion. According to David Spencer, director of business intelligence at Arrive Logistics, much of this freight adjusted to come through east and gulf coast ports to avoid congestion.
Greater digitization will continue to help in this area as well. Hapag-Lloyd exemplifies this with its own technology revolution. Ralf Belusa, managing director, digital business & transformation at Hapag-Lloyd detailed its adoption of new machine learning like natural language processing (NLP) and other technologies, which lead to faster adoption to change, greater agility, modern collaboration technologies to solve congestion, intelligent reroutings, and more precise customer information.
The future
As we move further away from the start of this disruption, the supply chain is now a c-suite discussion, which could result in long-term change in the near future.
"Experienced supply chain management executives will find a routine path into C-suite positions," says Andy Moses, senior vice president sales and solutions, Penske Logistics. "Consumer demands will require more nimble supply chains, and consumer expectations will continue to drive more SKU proliferation. All of this requires excellence in the basic supply chain functions such as warehouse operations, where excellence still isn't the norm in many industries. Those firms that understand how to harness the combined power of people and machines, driving data enabled decision making, will be in a great position to grow. Investors will continue to find opportunities in the supply chain field which will grow at a faster rate than the overall economy."
The collaboration and discussions focused on an organization's supply chain will lead to greater outcomes and decision making better for the industry in the long run. There's also been a shift in customs clearance in transit, to take place at departure instead of after arrival, according to Heimbeck. This simple move could drastically improve congestion in the industry, a result born from collaboration and discussion.
Many new strategies and innovations can come to be and heal the industry through the c-suite.
However, it will be a long time before we see a stable and undisrupted supply chain.
Spencer adds that due to the pervasive nature of the deflationary market being experienced across spot freight, smaller fleets and owner operators may continue to struggle. While the market is cyclical, there is significant attrition among smaller carriers who don't have easy access to contract freight, drivers and technology needed to thrive. Signs point to consolidation in the carrier space, in favor of larger, contract-dependent fleets succeeding in the short-term.
These logistics sectors remains strained and stressed for now, but a new future is on the horizon.