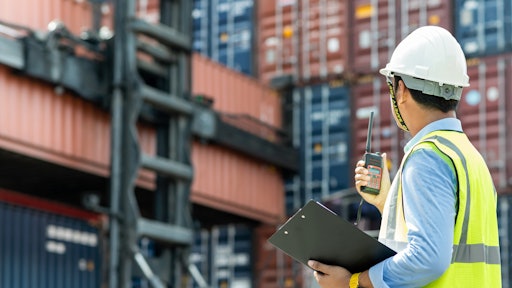 weerasak/stock.adobe.com
China is seeing more than 300 new COVID cases daily, and authorities are responding by creating movement restrictions that introduce immediate and potential ongoing disruption to manufacturing and logistics operations.
As of July 11, more than 30 million people across China have again been under some form of movement restrictions as a new flare-up of COVID-19 cases spreads across the country. Authorities, however, have so far stayed away from strict lockdowns in the most critical economic regions, including Shanghai and Shenzhen. In the first 10 days of July, an additional 1,830 new COVID-19 cases were detected across China, triggering new lockdowns from Wuxi, a manufacturing hub west of Shanghai, to Wugang, a city in the steelmaking province of Henan, and Xi'an, which houses several semiconductor manufacturing plants.
New rounds of mass testing are currently being conducted in major cities, including Shanghai, reviving fears of a new lockdown in the country's economic hub only six weeks after a 2-months long lockdown was lifted. The city reported 55 infections on July 12, the fifth day in a row that case numbers have stood above 50, and a sharp increase from single digits throughout most of June. New cases have also been reported in Henan, Guangdong, Gansu, Shaanxi, Anhui, Shandong, Jiangsu, and Fujian provinces as authorities struggle to maintain China's COVID-19 Zero approach considering a more contagious BA.5 sub-strain of the omicron variant.
New lockdowns spread to steelmaking and semiconductor hubs
Most of the new cases have been recorded in Gansu province, Shanghai, and Shandong in recent days. On July 13, Lanzhou, the capital of Gansu province in northwestern China that hosts many equipment manufacturers and metal processing companies, imposed a full lockdown for its more than 4 million residents, ordering them to stay at home. The province recorded 69 cases on July 12, the highest throughout China.
Earlier this week, the city of Wugang in Henan province imposed a three-day citywide lockdown on July 12, requiring all residents to stay at home and ordering mass testing. The city is home to Wuyang Iron & Steel, a major exporter of alloy and carbon structural steel to the wind turbine manufacturing, oil and gas, and petrochemical industries.
Authorities likely to continue to enforce dynamic COVID-19 Zero approach
China continues to adhere to a dynamic COVID-19 Zero strategy to deal with the pandemic, an approach that was reinforced in June during a visit of China's President Xi Jinping to Wuhan, where the pandemic first started. The approach mainly relies on mass testing, snap lockdowns and border curbs which are likely to continue to cause ad-hoc disruption to manufacturing and logistics operations in the medium term. A vaccine mandate in Beijing was quickly reversed last week after a public outcry, making it unlikely that China's leaders will revert to using vaccines as a nationwide tool to rein in the pandemic.
In the past days, COVID-19 cases have also been spreading throughout Guangdong province, with southern Chinese technology hubs including Shenzhen and Dongguan reporting new cases. So far, no citywide lockdowns have been announced, but this situation could deteriorate should mass testing reveal even higher numbers.
Manufacturers in China rely heavily on the discretion of local authorities to resume production and customers should monitor ongoing COVID-19 developments to understand in which regions delivery schedules may be delayed and how new regulations will impact production.
Customers reliant on sourcing components from the affected areas are encouraged to increase visibility of their sub-tier supplier networks. This can help companies analyze whether any of their critical suppliers or subcontractors are located within lockdown areas.
Earlier this month, authorities in Xi'an, a metropolis of 13 million residents, imposed a 7-day lockdown starting on July 6, prohibiting non-essential travel to the city. Mass testing continues to be carried out, with cargo going through Xi'an Xianyang International Airport having to undergo strict disinfection processes. The city is a major hub for global semiconductor companies, including Micron Technology and Samsung Electronics. A months long lockdown in January 2022 disrupted production at Samsung's Xi'an plant due to staff shortages, with operations only normalizing once the lockdown was lifted.
COVID-19 restrictions also remain in Wuxi, a production hub in Jiangsu province west of Shanghai after an outbreak that started in early July. Auto component supplier Weifu High-Technology Group was ordered to suspend production on July 1 after a single COVID-19 case was detected. Other manufacturing suppliers were potentially also forced to halt operations to allow for mass testing of factory employees. As a precautionary measure, SK Hynix, a Korean semiconductor company, set up makeshift tents at its plant in the city to mitigate any disruptions from the restrictions.