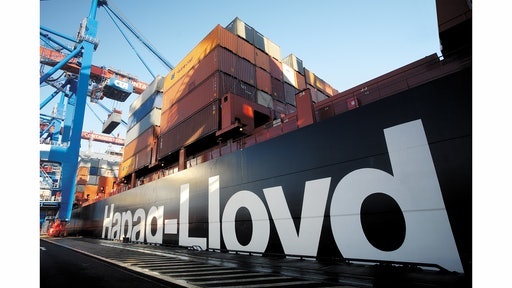 Hapag-Lloyd/stock.adobe.com
The events of the last several months have left supply chains rattled, distressing the entire supply network around the world and here in the US. Container demand is far exceeding capacity; China's COVID-19 lockdowns and Russia's attack on Ukraine, combined with spikes in consumer spending, are driving up costs, prolonging shipping delays and exacerbating congested ports.
Each event impacts another, and so removing the bottleneck in one area doesn't create flow. These issues are making it tough to resolve the overarching crisis. Managing the complex orchestration of the supply chain is going to be a continuing issue through the remainder of this year.
Shipping season bring turmoil
People are buying more— and we simply don't have the infrastructure to support it. As a result, shipping's peak season, which usually starts in June ahead of back-to-school, and the holidays has arrived early. To avoid shortages of goods, importers are ordering products extra early, which is, unfortunately, piling more boxes onto already-congested ports. This could leave ports strained into 2023. A recent survey by Container xChange revealed that 51% of freight forwarders, traders and shippers expect greater chaos in the coming season compared to 2021.
Consumer spending and the e-commerce boom, which skyrocketed this past year, has goaded traffic at these major ports like Los Angeles, Long Beach, and Oakland. And unfortunately, Los Angeles and Long Beach ports which are responsible for a lot of container trade from Asia, are one of the least efficient in terms of handling containers. Many container warehouses in Southern California are nearly full.
To begin to solve for this, we need to continue to address widespread worker shortages and get more people into supply chain roles. At Los Angeles, 40% of incoming boxes are supposed to be moved by rail, but only about half are loaded up every day due to worker shortages.
Lasting effects from lockdowns in China
Domestic manufacturers rely on raw materials sourced from China, so there are significant B2B and B2C ramifications here in the US resulting from China's lockdowns that began in March. The lockdowns made it extremely hard for products to be produced and shipped as planned. U.S. manufacturing activity in April hit its lowest level since July 2020, with the average time to receive production materials increasing to 100 days, the longest span ever.
Though China's COVID restrictions have eased up, there will be a long road to recovery ahead as supply chains stabilize and products can get back to businesses and consumers in a timely manner. To illustrate the impact, a backlog of cargo equivalent to 260,000 twenty-foot containers wasn't shipped from Shanghai in April because of the lockdown.
That said, many ports in Asia are generally more efficient than those in the US, so now we also have an issue where goods are being constantly and quickly loaded in Asia but are delayed being offloaded once they arrive here in the US. Delays and disruptions at ports mean rising costs for both companies and US consumers, not to mention rising costs globally. Marine fuel prices in Singapore have jumped 66% over the past year. Though restrictions are lifted, the damage has been done and delays and inflation will persist over the next several months.
Fallout from the conflict in Ukraine
Russia's invasion of Ukraine has further tried and tested supply chains. A conflict of this scale is bound to have significant implications, but as major exporters of key goods, the war Ukraine and Russia has led to more disruptions to the flow of these goods. As a result, aggravated supply chains and increased product shortages are driving up prices of food and gas around the world. To put it into perspective, Russia and Ukraine account for more than 25% of the world's trade in wheat and for more than 60% of global sunflower oil and 30% of global barley exports. Prices will continue to fluctuate until supply chains can re-balance.
In terms of the transport of goods, this conflict has highlighted the need for logistics flexibility. Ocean shipping is becoming more challenging, flights are being rerouted, and increasing numbers of freight trains are no longer available. The invasion in February and the sinking of ships in the Black Sea hiked premiums to between 1% and 5% of the value of the ship compared to pre-war levels of 0.25%.
If there's a key learning to take away from this current crisis, it's for supply chain professionals to center their focus on workforce management and logistics. They should build resiliency by driving innovation and increasing industry education to ensure scalable growth. We're only as strong as our supply chain — it needs to be part of every organization's strategy