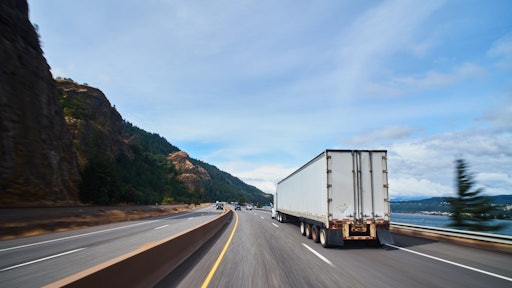 maxwellmonty/stock.adobe.com
Everyone wants to keep inventory moving. A warehouse manager needing space for an upcoming shipment. A customer eagerly anticipating a much-needed item. The financial team looking to maximize profit from inventory investments.
But the swift movement of goods can get hamstrung when a shipment falls outside the limits of regular warehouse transportation channels — like less-than-truckload shipments, parcel delivery or even a warehouse's own daily routes. You might have a rush shipment for an urgent customer need or a hard-to-package item. Maybe the delivery location is far from regular routes or costly to send via parcel services.
For Yancey Bros. Co., a Caterpillar and Blue Bird bus distributor based in Atlanta, the part keeping a customer from making a critical deadline could be as small as an O-ring. The faster Yancey Bros. gets that part from the warehouse to the repair site, the sooner the customer is back up and running.
Yancey Bros. and hundreds of other businesses like it have found crowdsourced delivery the ideal solution to delivery roadblocks. By meeting same-day delivery demands with crowdsourcing, they keep customers happy and inventory in motion. It's a win-win.
To make the most of crowdsourcing, warehouse operators need to think about both inventory and the customer experience. Adopting best practices that other companies have discovered while bringing crowdsourced delivery into their businesses can help.
1. Make sure you have insight into inventory
Great deliveries start with great information. It's important to have visibility into your warehouse inventory so you're clear on what is available for delivery. Modern warehouse management or inventory management systems make this possible.
This level of visibility also helps you understand how your current inventory positioning matches up to where demand is. When there's a mismatch, like a sudden spike in demand due to a promotion that's exceeding expectations, or an unexpected order that must be filled from two locations, crowdsourced delivery can help quickly move inventory to those locations.
2. Develop strategic crowdsourced delivery processes
Working with a crowdsourced delivery platform will differ from working with a truckload carrier that backs up to your loading dock. It's important to determine where and how orders are going to be staged and labeled so the crowdsourced driver can identify the right one. Assigning a team member to be the point of contact is helpful if there are issues.
Another step is training your employees to do this specific type of fulfillment task. The way you package and label items for crowdsourced delivery may differ from your traditional shipments.
It helps to think about the process from the driver's point of view: Once they arrive at your site, where do they park? What door do they enter? Who do they ask for?
Finally, consider integrating back-end systems, like your transportation or warehouse management system, with the delivery platform. While a platform's web portal can make it easy to book deliveries manually, using the platform's API, if available, takes one more step out of the process.
3. Set KPIs to measure success
Many warehouses are measured on efficiency and customer satisfaction. So it's important to establish metrics that show how crowdsourced delivery is supporting those overall goals.
This helps confirm that crowdsourced delivery is the best way to get certain types of orders where they need to go. It also ensures the service you're delivering lines up with — or even exceeds — the expectations you set with the client.
Here are some common metrics:
On-time delivery
Customer satisfaction
Cancellation rates/reasons
Average cost per delivery
Average distance/total mileage
Damage claims
Cost per mile
Cost per stop
Order accuracy
Route optimization
Stoppages.
The best crowdsourcing partners make it easy to track performance. They put key data right on your dashboard. They also generate weekly reports that include the metrics you find most valuable.
4. Ensuring customer visibility
Customers receiving crowdsourced deliveries are often eagerly waiting on their order's arrival.
So it's important to be able to share up-to-the-minute details on its status.
Leading crowdsourced delivery platforms provide real-time, end-to-end visibility in several ways. You can offer a customer SMS messaging. Delivery status is also available on your customer portal. And if you integrate the platform with your warehouse or transportation management system, that data is pushed into those systems so you can report directly to your customer.
It's also good practice to let your customer know how their crowdsourced delivery will arrive. For example, drivers in a crowdsourced network usually don't wear uniforms and they drive unmarked vehicles. They might be driving anything from a compact sedan to a cargo van.
5. Thoroughly vet the crowdsourced delivery partner
The delivery is the last touch in the customer journey. You want it to be a positive experience. That means the delivery is accurate, on time and reliable, no matter what mode you use to get it there. When picking a crowdsourcing partner, it's important to dig deep and make sure they can deliver on your promises. That includes understanding the area they service, how fast they can deliver, and the accuracy of their deliveries.
One must-have from a partner is robust technology. You want the partner to have invested in their platform so the complex, multistep process of connecting businesses, drivers and destinations feels seamless. Ideally, the well-designed platform will feature real-time tracking and strong data security. Also, easy-to-use portals, reporting, apps and templates you can customize to your needs.
Technology, however, is just one part of the solution. A good crowdsourcing partner also helps you set up processes to make everything go smoothly. This includes offering resources like online guides that your team can use to understand crowdsourced delivery processes. It also means providing help with a question or issue, like live support and named account managers.
Take the next step to support inventory management
Inventory is often one of your biggest investments. Keeping it moving is essential to containing your costs, driving revenue and ensuring your customers are happy. A growing number of warehouses are turning to crowdsourced delivery to complement their other delivery channels and get their inventory where it needs to go, fast.