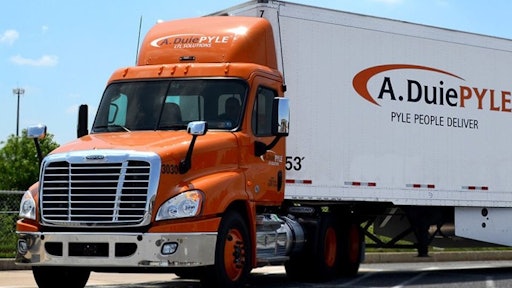 A. Duie Pyle
The Coronavirus disease (COVID-19) challenged and severely disrupted the supply chain in 2020. As the pandemic sent shockwaves through the supply chain, transportation and distribution partners with integrated, flexible offerings kept the supply chain flowing.
COVID-19-driven market volatility coupled with changing consumer and business behaviors not only disrupted supply chains, but also reshaped them. The pandemic forced shutdowns of some markets and accelerated others. For example, the construction industry saw revenues decline over 10% in 2020. In contrast, the corrugated packing industry enjoyed double-digit growth resulting from the increase in online ordering and takeout demand.
Changes in consumer behavior also caused a dramatic shift in freight patterns as the health crisis moved shopping away from physical locations to e-commerce. The COVID-19 fueled surge in e-commerce saw sales grow from $598 billion in 2019 to $861 billion in 2020 – a 44% increase. Data from McKinsey puts the surge in e-commerce volume into context, noting that the rate of e-commerce penetration in the United States grew by 10 years in a 90-day period in 2020.
Unprecedented uncertainty and dramatic swings in capacity needs to put a spotlight on the importance of a strong, resilient transportation networks and elevated demand for logistics partners with the flexibility to help customers navigate COVID-19 supply chain challenges. McKinsey noted that "now more than ever, maintaining the flexibility of logistics is essential for limiting disruption to essential services."
During the pandemic, adaptability and flexibility in transportation and distribution networks were critical to adjusting to consumer demands and changing business environments. Carriers responded by developing flexible supply chain solutions that included redeploying drivers and assets from customers experiencing a decline in business to other fleets where more capacity was needed for win/win scenarios. Shifting resources back and forth between less than truckload (LTL) and dedicated fleets balanced capacity for customers who either needed more or needed less based on their business volumes during COVID-19. Flexible supply chain solutions during COVID-19 also saw some carriers providing work for dedicated fleet customers through brokerage divisions. Flexible solutions continue to play a critical role in helping shippers adjust quickly to supply and demand changes in the market.
Significant capacity fluctuations in different distribution modes occurred not only at the height of COVID-19 but continue on today, creating a sustained need for nimble and agile integrated transportation solutions.
The surge in online ordering, which created waterfall capacity challenges for supply chains worldwide, is a prime example of this. Small parcel volume caps that many large supply chains were faced with in the fourth quarter last year caused shipments that would typically go parcel to be handled by LTL providers. This strained LTL networks, which led shippers to turn to the truckload spot market to move any traditional volume LTL shipments, driving those rates higher and causing acceptance rates to decline. Customized integrated solutions became critical to addressing capacity swings like this.
Integrated distribution centers (IDCs) were also integral to helping shippers adapt to changing market dynamics during the health crisis. IDCs provide shippers with the ability to warehouse their products, operate their dedicated fleet, utilize TL and brokerage services and access a next-day LTL network all under the same roof. These solutions provide customers with the unique advantage of immediate overflow options that efficiently address dynamic daily order volumes.
The advantages of integrated supply chain solutions are found in the complete range of transportation, warehousing and distribution services. These include same and next-day distribution, assembly and value-added project capabilities, final-mile delivery options, improved shipping integrity, extended cut times, as well as consolidation and de-consolidation. These solutions speed up customer supply chains and create operating efficiencies that help control distribution costs for customers.
Research by Capgemini revealed that more than 80% of organizations reported being negatively impacted by the COVID-19 crisis, and a vast majority have struggled with significant challenges across all aspects of their operations, including supply chains. The report noted that "the COVID crisis has been a crucial test of supply chain agility, requiring organizations to respond to a wide spectrum of unexpected challenges. Going forward, organizations are taking actions to improve supply chain agility to be better prepared for future disruptions." The report recommended that organizations establish strong, collaborative relationships with supply chain partners to help them react rapidly to disruptions.
Collaborating with carriers that provide flexible, integrated solutions is the answer to minimizing risk and increasing stability. These capabilities make the supply chain more resilient through seamless, scalable, and cost-effective solutions that are agile enough to address today's challenges and tomorrow's uncertainties.