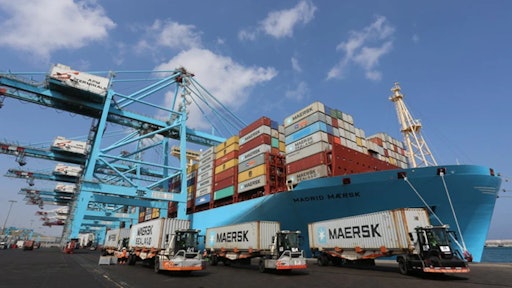 Maersk
With the rapid evolution of technology, third-party logistics (3PLs), trucking and rail companies are dealing with an extremely different landscape than even just a few years ago.
The Coronavirus disease (COVID-19) pandemic, technology disruptions, changing demographics, an upcoming election and growing sustainability concerns are just a few of the factors that have the retail industry and its supply chains and logistics on alert for the rest of 2020.
While in some ways technology is helping modernize the logistics process, speed up parts of the system and reduce emissions, it is also creating major headaches as the system becomes disjointed.
Driving with innovation
One of the biggest concerns for the trucking industry, for example, for the remainder of 2020 is the shrinking number of drivers in the sector.
Millennials make up the bulk of the total workforce today, while boomers are aging out. These younger workers have drastically different values and are looking for jobs that they are passionate about or provide higher quality of life. Millennials find the long work hours away from home, among many other factors, unappealing.
While the driver shortage is nothing new, it is increasingly getting worse and making a greater impact on delivery and supply chains. A report from the American Trucking Association, Arlington, Va., stated that 46 years old is the average age of an over-the-road driver and 35 for a new driver and that 1.1 million new drivers will need to be hired each year to offset the shortage.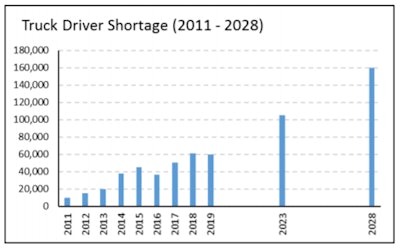 As current drivers continue to retire, the delivery industry is growing at rapid speeds, causing an even greater strain on demand. Thanks to the previous recession, logistics companies are also having capacity issues, as many downsized their resources to stay afloat, adding to problems caused by the driver shortage while retail consumption continues to flourish.
Trucking companies are looking to offset these issues and make the job more appealing to young potential drivers by offering hotel stays on long hauls and some even building driver lounges. Many are even targeting students coming out of high school by highlighting the high pay rates and job security in the hopes of getting young employees who have decades of working years ahead of them.
In the future, technology may be able to offload drawbacks associated with the driver shortage. Autonomous vehicles and perhaps even hyperloops, a high-speed transportation concept, may alleviate these issues and provide faster shipments. Currently, drivers are using technologies such as electronic logging devices (ELDs) to track their routes and to be sure they are not passing the regulated number of driving hours, which many say are hindering the process.
"I'm very concerned with e-logs, which put unnecessary time constraints on drivers and on shippers who aren't familiar with the issues, such as drive time," says Chris Pemberton, operations analyst at Pemberton Trucking, Knoxville, Tenn. "ELDs are putting time constraints on drivers and closing off potential workers. Comps are not being respected. Many truckers will get out of the industry sooner or later because of the issues with ELDs. "Trucking companies need to know how to troubleshoot e-log and make it more worker friendly."
Drivers waiting for shipment loads to start and be completed are automatically recorded in the ELD as well, sometimes adding number hours to their total time and maxing them out past regulation time early on.
It is likely that regulations will become even stricter, with California's AB5 regulation as an example, which requires companies to prove workers are independent contractors with a three-pronged testing system. If workers who consider themselves independent contractors are forced to be labeled as full employees, this means stricter schedules and guidelines for them, which is a less attractive way of working.
However, what these drivers lose in flexibility, they gain in stability. Companies are then required to ensure that they pay these workers minimum wage, benefits, breaks and other staff regulations mandated by the government. While the bill is on hold for now, there is talk of this model going nationwide. There are both pitfalls and benefits to the bill, but the trucking industry loses the flexible lifestyle factor in attempting to recruit young individuals.
It is likely that the landscape of shipping could change altogether, with trucking focused on last mile while other forms of transportation that are less reliant on over-the-road drivers completing the bulk of the distance in intermodal shipping. Poor infrastructure and congestion on roadways are another attribution causing truckers to hit their regulation times early on and costing companies significant funds. Sitting in traffic and searching for parking are just a few of the obstacles that drivers come across in their routes, which could lead to an overhaul in the industry soon.
A report from American Transportation Research Institute, Arlington, Va., exhibited that congestion has grown 92% in five years in locations already noted for having significant congestion for heavy-duty trucks.
Pressure for visibility and sustainability
As ELD technology is a frustration point to trucking companies, digital is also putting pressure on logistics to show greater visibility throughout the entire process.
With digital solutions becoming more commonplace, consumers' expectations are growing even more in the workplace. Companies want to see where their shipments are, which means providing trucks equipped with GPS tracking and as much detail as possible. Trucking companies, as well as 3PLs, are also tapping into technology to provide end-to-end visibility for more cost-effective forms of operations. These trucking groups allow partners to see exactly where a truck is and synchronize with other companies to reduce downtime for all the moments beyond just driving.
For instance, Nolan Transportation Group, Atlanta, partnered with Descartes Systems Group to develop a freight visibility solution that interacts between the group and its customers with real-time information on location, route status, rates, payment status and other functionality. Designed to enhnace shipping visibility, the Descartes app helps drivers focus on driving.
Other companies are following similar formats to ensure optimal customer satisfaction.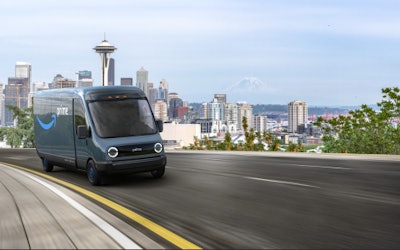 "As the economy grows, there will be more output, and a need for more trucks on the road and more opportunities for growth," says Perry Falk, senior vice president of carrier operations at Nolan Transportation. "Digital tools will add ease-of-use and help to lower the cost of operation. Other things that compete against transportation are regulations – we need to make the regulations easier and provide fewer constraints."
Technology is also helping the trucking industry augment the load planning process.
"The trucking industry is always looking for new ways to streamline, automate or improve its processes through smarter uses of technology," says Tim Carey, executive vice president of strategy at Target Freight Management (TFM), Pittsburgh. "For example, innovations like TFM's own Dimensionalizer technology has led to more efficient load planning for less-than-truckload (LTL) shipments, faster and more accurate weighing and dimming processes and clearer communication throughout the entire supply chain. This practical application of freight management technology helps shippers prevent costly overages while keeping receivers accurately up-to-date on inbound shipments."
There are also more aggressive forms of technology that logistics companies are experimenting with that could mean a different landscape in the future. Since the trucking industry is one of the most prominent contributors to carbon emissions, many are experimenting with the idea of going electric.
Last September, Amazon purchased billions of dollars' worth of battery-powered delivery vans manufactured by Rivian, Plymouth, Mich., as part of its mission to only use renewable energy by 2030. This Amazon fleet is expected to cut carbon emissions by 4 million metric tons within that projected timeline.
Volvo Trucks North America is also working on a project for a fleet of electric trucks, which could deliver on market-ready Class 8 Volvo VNR Electric truck by the end of next year. But, it is not just emissions that technology is helping to cut; it is also drivers themselves.
As manufacturers become increasingly sophisticated in terms of autonomous vehicles, the trucking industry could likely see driverless shipment methods on the road. ResearchAndMarkets released a report citing that the global autonomous last-mile delivery market could be valued at $11.13 billion by next year, and $75.65 billion within 10 years.
This means that consumers could see product delivery to their doors without any human intervention within the last mile, reducing possibility of human error, the need for more drivers and costs for logistics companies.
In addition to driverless vehicles, drone delivery is getting closer to reality. Amazon also introduced Prime Air, which allows drones to deliver packages under 5 pounds to customers within 30 minutes or less. The e-retailer began testing this in the private sector in 2017.
Drone Delivery Canada is completing testing for cargo carrying drones for customers like DSV Panalpina, where the Denmark-based 3PL will use the drones to deliver packages up to 10 pounds. DDC's Robin XL drone is currently undergoing real world testing.
While autonomous and electric vehicles could change logistics in the long-term future, in the short term, last-mile delivery could shift toward trucking while freights handle the longer distances.
From steam to diesel to batteries
In addition to battery-operated trucks, electric locomotives with high horsepower are in development with rail companies to help improve safety as well as reduce emissions.
"BNSF pilots several technologies to increase safety, efficiency and our customers' return on investments," says Tom Williams, group vice president of consumer products at BNSF Railway Co., Fort Worth, Texas. "Currently, we are piloting automated horizontal container movements at Logistics Park Kansas City, a battery-electric road locomotive in Southern California, and various safety programs that increase network efficiency and reduce employee exposure, among other pilot programs."
An entire fleet that operates solely on battery is likely years away, but its potential could be a game changer. While an electric car battery has a few hundred storage cells, the prototype BNSF is building would have a battery with an estimated 20,000 cells. Future versions of the electric locomotive could have up to 50,000 cells. BNSF says that a charger will need to be installed at its Mormon Yard in Stockton, Calif., later this year to begin pilot testing.
In addition to electric rails, high-speed freight trains are also growing in potential to disrupt the sector.
In November 2018, Italy-based Mercitalia Logistics launched a high-speed freight rail system that runs on the pre-existing Italian High-Speed network used for passenger trains, running between Caserta and Bologna in just one hour and 30 minutes. Currently, China and Europe both have a mix of passenger and freight high-speed rail systems.
Despite the American Recovery and Reinvestment Act being signed into law 10 years ago with a significant portion of it dedicated to new rails, the United States is still lagging in high-speed train systems. In terms of true high-speed train systems, there is none currently in existence in the country; only parts of Amtrak's Acela line in the Northeast Corridor, but that is devoted to passengers.
If high-speed freight trains eventually do gain a footing in the United States, this could revolutionize the way retailers and supply chains operate. This concept is highly different than the possible hyperloop concept, popularized to the American people by Tesla founder Elon Musk.
The idea of the hyperloop is sealed elevated tubes using air to propel pods of passengers and cargo at speeds up to 600 miles per hour. Musk's concept for a hyperloop that would connect San Francisco and Los Angeles is estimated to connect the two cities in about a half an hour, while the high-speed train project that is under way in the same area would take more than 2 hours.
Other companies are investing in the beginning of hyperloop, with a few even starting to create test cylinders in places such as Dubai and Europe. Virgin Hyperloop One, Los Angeles, is working to make these tubes a reality. Non-profit development organization Kansas City SmartPort has partnered with the company to complete feasibility studies and create a blueprint on how this would be possible in Kansas City.
"We've identified a route, and then Kansas city is actively trying to locate the Hyperloop certification center here in Kansas City that would allow the regulatory and bodies in the U.S. to regulate it and certify that this technology in this mode is safe and is viable," says Chris Gutierrez, president of Kansas City SmartPort. "It's pretty exciting. I mean it seems cutting edge, but it's pretty basic technology that's been perfected by Virgin Hyperloop One, or VHO as they're known."
Another technology that already exists in Japan is the maglev train, which uses magnets to propel the cars. Both the maglev and hyperloop would mean creating a wholenew infrastructure. For high-speed rail, there is not a clear consensus on how it would impact the current infrastructure or how well the two would interact. But, what is for is sure is that altogether, infrastructure is impacting the supply chain and logistics, especially with rail. With the massive mileage of rail systems and tracks around the entire world, it can be difficult for governments and private companies to keep up with maintenance.
Modern maintenance
One way that companies are keeping up with track maintenance is with drones, following along the tracks to see the condition they are in. Many also use LiDAR radar technology, which attaches to a drone or a road vehicle and tracks and displays the health of the rail lines through artificial intelligence.
"The rail infrastructure goes in some of the remote parts of the country using those drones to really understand the condition of the tracks and what might be happening," says Gutierrez. "You also have this LiDAR radar technology, I think it is where they'll put a LiDAR system either on a drone or the back of a vehicle on the track and it immediately identifies all of the track and surrounding areas for any challenges or things that need to be repaired as opposed to someone physically having to do that.
"That's credible technology and artificial intelligence, again with that positive train control and command centers that are controlling trains and supporting the engineers. I think that's going to continue to grow with the rail sector."
While the driver shortage is running the trucking industry ragged, the rail system is less affected because it requires fewer workers. Rail companies are now focused on creating a better quality of life for more equipped employees. Using the rail industry in tandem with trucking can help alleviate a variety of pain points in logistics altogether. Instead of having drivers complete long-haul shipments with significant time behind the wheel, the trucking industry will likely take the bulk of shorter shipments and last-mile delivery, while rail focuses on the long haul. This can help with congestion, as less trucks will be on the road.
"We see a lot of opportunities resulting from rampant traffic congestion and the associated strains on public infrastructure," says Greg Ferraro, vice president, supply chain at OmniTRAX, Denver, Colo. "Taking long-haul trucks off public roads and putting that freight on private rail infrastructure not only helps with the congestion and related road maintenance and safety issues, [but] it is also a much more environment-friendly alternative."
Rail companies such as OmniTRAX leverage their resources to focus on a more precise experience for the customer, similar to trucking's lean into visibility. These groups make sure their transload services are readily available at key locations, so that partners can receive shipments exactly when needed in ways like creating transfer sites closer to manufacturing or distribution centers. Creating mobile apps and automated gate systems for drivers can also help reduce wasted time.
BNSF, for instance, has created an app that embeds in drivers' dashboards for easy use. As shipments move from trucks to rail or vice versa, partners still want precise visibility on exactly where their cargo is, so that means rail services are incorporating GPS tracking technology as well. This technology, named Positive Train Control, is even used to help prevent train collisions, keep the rail industry safe and is now required by law.
While rail companies are keeping an eye on technology, they also need to watch for trade tensions and growing border concerns, which are serious points of contention in logistics, especially in rail. Many use transload services to make border crossing much simpler, but as partners' interest in flexibility grows, the more pressure mounts on freight rail companies to innovate ways to make that happen.
"BNSF's biggest growth opportunity is the continued increase of using intermodal in domestic supply chains," says Tom Williams, group vice president of consumer products, BNSF. "Consumer sentiment and confidence is good, and with the surge in online retailing, the economy has shifted to shipping a majority of consumer goods directly to the consumer. Intermodal is the most efficient way to position goods near densely populated areas so that consumers' expectation of fast delivery can be met, whether to a distribution center, a brick-and-mortar store or directly to the consumer's house."
Staying afloat in 2020
For ocean carriers, the issues are widely similar to trucking and rail, with many focused on sustainability, adopting technology for better visibility, quality of life for their workers, problems caused by the coronavirus and growing trade tensions.
Maersk, for example, has made a pledge to be carbon neutral by the year 2050. Meanwhile, the industry deals with heightened registrations on fuel and sulfur emissions.
Beginning in 2020, the International Maritime Organization issued a ban on ships operating with a .5% sulfur content and above. Previously, the limit was 3.5%, which is a serious change for ocean carriers. These companies will have to deal with fines and vessel hold ups if they do not turn to cleaner fuel options such as natural gas in liquid form and lower-sulfur fuel or scrubbers that pull out sulfur from fuel. These regulations will be enforced at ports.
Collaborative cloud-based solutions connect ocean carrier companies together to partner and, scale and attack the pain points.
For instance, Ocean Network Express, Japan, worked with Navis and Terminal Pacífico Sur Valparaíso to integrate XVELA, a network connecting carriers and terminal operators. The solution helps with physical stabilization, reducing the number of times in which a ship needs to be restowed to ensure it will not sink based on its cargo. The platform taps data from a variety of parties, including the vessel to determine proper stowage.
Ports have also helped significantly increase the technological advances in the supply chain on oceans and have adopted similar platforms to the ocean carrier collaboration. These locations are increasing connectivity between each other to make transloading easier for both ships and truckers. An important factor to note is that with growing connective technology, there also comes new risks. Ports who are involved in these collaborative platforms must heighten cybersecurity to protect against potential attacks.
For its part, Port of Los Angeles has worked on combining customs data across the board, working with nine of the Top 10 carriers to provide information for what it calls a Port Optimizer.
In addition to technology advancement, another factor that follows ocean carriers into the ports is the need for sustainability and updated infrastructure. Ports are looking to substantially decrease their emissions to help comply with growing concern for climate change as well as modern infrastructure and design for easy access for truckers.
"The port always seeks to increase operational efficiency to keep our seaport competitive," says Robert Bernardo, communications manager at Port of Oakland. "Our temperature-controlled, state-of-the-art facility, Cool Port, will expedite operations between ship and warehouse due to proximity to the port's marine terminals. Our Seaport Logistics Complex will have a similar advantage due to location. We're also using technology solutions to reduce turn time for truckers moving containers to and from marine terminals by getting more information about gate times to truckers. The port is investing between $250-500 million to make its roadways more truck friendly and adding more lanes. The port also plans to expand its two turning basins."
Collaboration is key
As is the importance of working with trucking companies to create a better physical location, this is also true for rail. Port of Los Angeles is aiming to increase on-dock rail facilities from 26% to 30-32%, likely to help with the growth of agricultural exports, which brings its own series of issues.
China's consumption of pork has continued to rise, forcing supply chains to rethink international agricultural shipping. Experts believe that the amount of pork consumption would likely continue to grow, but since the devastating effects of COVID 19 have set in, it is unsure of how the industry will go on from here.
Tying all these sectors together are the 3PLs, who handle the entire logistics processes for partners. This is where some of the most interesting deployments of technology have occurred, introducing autonomy and technological solutions to speed up the packing, sorting and shipping process. More importantly though, 3PLs focus on showing visibility just as much, if not more, as any other company in the supply chain.
"Now, such tools are trending to even greater supply chain visibility, and result in more collaboration between players in the supply chain ecosystem," says Sanjay Lall, executive vice president and CIO, Americold. "Today, our customers are not satisfied with just a status update of orders in our four walls. They want to start allocating and making decision on product in transit. It's about building a full visibility of orders from farm to fork."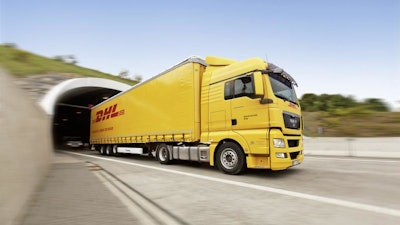 Real-time visibility is key for 3PLs, all the way through the final mile. But, in terms of augmenting the warehouse and supply chain sectors, a variety of autonomous robotics, advanced conveyor systems and beyond help the sorting, loading and unloading processes. While many warehouse workers are wary in terms of automation, companies focus on making the job easier on the workers instead of replacing them with robots.
And, there are many points of the distribution process that cannot be replaced with autonomy, so 3PLs use data to augment the employee's job instead of replacing it. Robots working in tandem with hands-on employees will likely be the future of the distribution process.
In terms of sustainability, 3PLs are urged to use the Smart Way program, which allows for these companies to input information regarding their fleets and its relation to climate change. This way, partners can view how sustainable each 3PL is and determine what partner is the best fit for their company.
DHL, for example, made a pledge to be more sustainable, and has implemented a goal to be 95% Smart Way carrier-certified within five years.
In this world, digital freight marketplaces are also becoming increasingly popular, eliminating the need for a human broker between companies. 3PLs access these databases to find partners that move shipments in a more timely fashion, which allows them to see who is the best fit, with the best price.
For its part, Convoy received $400 million in in its Series D funding round in order to expand its on-demand trucking platform. However, it is important that 3PLs honor their existing partnerships, so the marketplace can be used for more immediate purposes.
DHL might reach out to their primary carrier for a shipment on a specific day, but if it is not available that day, then DHL can turn to Convoy or Uber's freight platform to find a carrier available for the right price. Other digital tools such as Happy Gig allow individuals in the warehouse industry to find freelance work in a similar manner on how ride sharing operates. However, these individuals are not amateurs. These are experienced employees looking for either extra work or experienced a change in circumstances.
These platforms are growing the flexibility and capabilities for everyone in the logistics process. While the rest of the year will see certain upheaval due to COVID-19 and the subsequent shutdowns, other facets of the industry such as sustainability, technological offerings and employee management will continue to be at the forefront of these companies' strategies as they look to the future.
"Without trucking, there isn't a U.S. economy," says Carey. "That makes the freight industry a crucial component of every other sector, but also one of the most overlooked in terms of its impact on people's daily lives."
Companies in this article