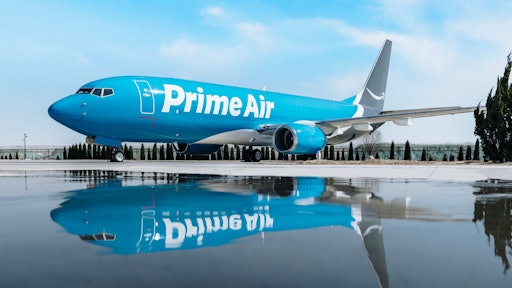 Twitter
Amazon Air is planning to add a new freighter aircraft to its fleet, however, where it will operate is still left up in the air.
Last week, senior vice president of operations at Amazon, Dave Clark, tweeted an image of a B737-800 converted freighter, Aircargo News reports, leaving many to speculate if the e-commerce giant will use the blue aircraft. In addition, the plane is a B373 rather than a B767, which current makes up the company's existing fleet.
According to Aircargo News, the B737-800 has a lower capacity compared to the B767. While the aircraft is currently registered in the U.S. through a trustee service provider, many are speculating whether or not the plane will be used in Europe. The trustee system allows foreign owners to register their aircraft in the states.
Currently, ATSG and Atlas Air current operate Amazon's fleet of 40 aircrafts. Though, it is unclear if the companies will operate the new plane even though both have experience with the B737F platform.