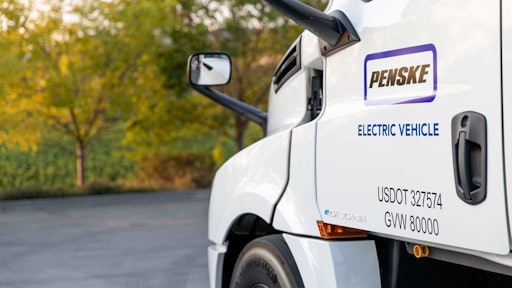 Penske
Vehicle emissions have been a significant part of the climate change conversation since it began to catch speed in the early part of the millennium. As automakers increasingly push more environmental friendly models, how does the logistics industry fit into all of this? With so many forms of transportation working throughout large periods of time to deliver products, emissions in this sector is an important factor to pay attention to.
Major players in the last-mile delivery sector, including Amazon, USPS, UPS and DHL have introduced new programs and goals as part of an overall strategy to integrate sustainable practices into delivery.
For instance, Amazon has pledged to be carbon neutral by 2030, investing in renewable energy and battery-powered fleets to do so. USPS is introducing propane autogas trucks to reduce emissions, alongside plans to deploy 6,000 natural-gas powered trucks in an agreement with Agility Fuel Solutions over the next three years. And, DHL has integrated sustainability into its overall strategy, going as far as releasing reports on sustainability efforts, launching a podcast on the subject in addition to making sure its fleet and operations reduce emissions.
"Sustainable logistics aims to lower the ecological footprint of its tasks, such as CO2 emissions, noise pollution, and accidents," says Bren Marshell, vice president of sales at XStream Trucking. "Logistics suppliers must look for a balance between financial growth, environment care, and the health of society. For the trucking industry specifically, almost every part of the tractor & trailer, from the front bumper to the rear of the trailer doors have had some form of improvements, modifications, and/or innovative products designed to help with these issues. For example, lower resistance tires, streaming airflow, reduction of drags, major improvements to engines, are all focused on improvements of fuel mileage, and ultimately reducing the carbon footprint. The look of equipment rolling down our highways today is a lot different and more evolved than it was 10 plus years ago due to so many of these technological innovations."
Additionally, in January, Amazon, AT&T, DHL Express USA and other companies partnered under the sustainable-investing non-profit Ceres, hoping to accelerate the push to electric vehicles. Maersk and Wallenius Wilhelmsen are working with Copenhagen University and major customers, including BMW Group, H&M Group, Levi Strauss & Co. and Marks & Spencer to form the LEO Coalition to explore the environmental and commercial viability of LEO fuel for shipping. Another group comprised of major retailers and brands such as Nike, Columbia, H&M Group, Gap Inc. and Ralph Lauren along with carriers CMA CGM, Evergreen, Hapag-Lloyd, Hudson Shipping Lines, Bureo and Mediterranean Shipping Co. have signed a pledge not to ship through Arctic Ocean routes to help conserve the region where ice caps are receding.
In March, Delta pledged to commit $1 billion throughout the next 10 years to mitigate all emissions from its global business going forward. And, CSX recently became the first railroad in North America to have the Science Based Target Initiative (SBTi) approve its new emissions intensity goal, which is consistent with reductions required to keep warming to below 2 degrees C. And, Penske Trucking has introduced a variety of electric-powered vehicles for its leasing and logistics division.
There are countless examples of companies who work in the movement of supplies and products taking significant steps to reduce their carbon footprint and make a difference in this sector. Their concern for the environment and moral aptitude in doing so has not gone unnoticed. But, the ability to turn eco-friendly right now is more appealing and accessible than ever before.
While reducing the impact on the environment, if correctly planned, companies can also assist their bottom line. Reducing fuel emissions can also cut fuel costs in addition to consolidating shipping costs and streamlining efficiency.
"We are focused on efficiency and sustainability in our industry on a daily basis," says Brad Payne, vice president of brokerage at Nolan Transportation Group. "As we increase the productivity of carriers and minimize deadhead mile and other wasted resources, we reduce the environmental impact of critical transportation activity as well as its impact on existing infrastructure. We constantly seek to improve productivity and optimize routes for our shipping customers and our carrier partners.
"We expect continued disruption in the supply chain and are working closely with our shippers to maximize efficiency wherever possible," he continues. "As an example, we try whenever possible to consolidate partial shipments and fill trucks to capacity for over-the-road loads. Brokers with scale with larger customer and carrier networks are naturally going to have an advantage in this area and we are working to maximize utilization of resources and reduce costs for shipping customers wherever possible."
Sustainability through technology
Many technology providers and companies are looking toward a more sustainable future and are providing the platforms and consultancy tools to help manage their emissions.
For instance, Leonard's Express is targeting fuel savings with Vnomics True Fuel technology hoping to save 3% in annual fuel by providing an analytical approach to operations and emissions. Also, CALSTART's Global Commercial Vehicle Drive to Zero program has launched the Zero-Emission Technology Inventory (ZETI) tool to catalog models of current and upcoming zero-emission commercial trucks, buses and off-road equipment to help logistics providers make a more informed choice in vehicle purchasing.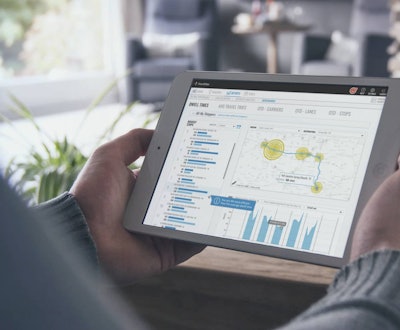 FourKites features a Sustainability Dashboard to show partners the environmental impact of their supply chain operations through visibility. In this area, data is one of the most important aspects in determining how much of an impact a company has on the environment and how to reduce it. However, this is one of the major pain points for the sustainability sector.
"Data availability is one of the biggest challenges in tackling sustainable logistics," says Susie Bodnar, director of operations and client strategy at FourKites. "Accurately measuring freight emissions, for instance, depends on several variables, including the type of load, equipment type, distance and more. For many companies, the necessary data is only partially recorded, and much of it remains siloed in systems throughout the organization. Further complicating this is the fact that standard methodology for calculating emissions can vary from region to region.
"Companies can mitigate this challenge by instituting systems to streamline and centralize data collection," continues Bodnar. "Many companies already have tools in place to do this. Real-time transportation visibility platforms such as FourKites are rapidly becoming the industry standard to track freight, but they can also be used to collect data that can be used in sustainability calculations. Every supply chain professional can use the data in these systems to make more efficient choices within their everyday roles. Many companies increasingly have a sustainability team in place as well, that can own the data collection and calculations that will help them achieve their sustainability goals."
Beyond data, technology has allowed sustainable practices to flourish, as seen with the modernization of trucking. Many times, investment in these eco-friendly technological solutions can have up-front costs but will eventually offer significant return on investment in the long run by reducing continuous expenses that can add up like fuel. But that is not always the case, which is why it is important for companies to carefully investigate these measures.
"End-users must look at bottom line," says XStream's Marshell. "Unfortunately, some products in the market that provide a great environmental impact, provide an unacceptable ROI. There is a fine line between being environmentally friendly, and still, fiscally responsible to their investors. Time and effort must be taken to assess where savings are best achieved, and money is best spent.
"Within the trucking industry, for example, if you are purchasing aero devices to install on each semi-trailer in your fleet, yet you have a three-to-one trailer-tractor ratio, that means two-thirds of your equipment is parked at any given time and not realizing any savings at all, either in money or environmental savings. However, if you purchase an aero device installed on your tractors, the impact and opportunity for savings happens with every mile driven. So, it comes down to better research and more focused decisions."
Two different kinds of health for the Earth
As the Coronavirus (COVID-19) pandemic has changed many aspects of the supply chain, many logistics companies have had to fast-track the introduction of technology to keep businesses moving, which in turn has helped with sustainability efforts. Some of the problems that have risen out of the pandemic have solutions that also help the environment. For instance, most modern technologies used within the warehouse and logistics sectors feature battery-powered alternatives to many processes that previously featured gas-powered equipment.
"The new dynamics from the pandemic have overcome some of the obstacles relating to change management as it has caused us all to operate in a new 'normal' and been an incentive for organizations to adopt more digital technologies," says David Cahn, director global marketing at Elemica. "One of these new normals is going to be overcoming an even greater labor shortage issue of drivers.
"The pandemic has caused an increased investment in digital technologies around sustainability and transparency while also raising costs," continues Cahn. "Ensuring the health safety of the available drivers and the infrastructure to support them is a major concern from the pandemic. Road transport is the primary mode of transportation for essential goods and is relied upon heavily for the continued supply of food, medicine, and other essential products."
According to NatureResearch, stay-at-home measures due to the pandemic created a drop in CO2 emissions by 17% by April 7. With much of the world's public transportation reduced and less vehicles on the road, the atmosphere is seeing a significant reduction in these emissions. However, once the pandemic has ceased, these reductions will not remain.
"COVID-19 has unexpectedly brought increased attention to sustainability in logistics," says FourKites' Bodnar. "Greenhouse gas (GHG) emissions have dropped substantially over the past few months due to an overall decrease in vehicles on the road. While this has been a fantastic consequence for the environment, we expect to see emissions rise again as the economy rebounds. In an effort to keep emissions low, many companies have begun looking into optimizing asset utilization - not just for its positive environmental consequences, but also as a way to save money.
"Companies are increasingly partnering to share capacity and better planning their loads to reduce the amount of excess (or empty) miles on the road. Even before COVID-19, empty miles were widely regarded as one of the biggest sources of waste in supply chains. The current economic and environmental pressures have pushed companies to prioritize strategic capacity planning and asset utilization as a way to simultaneously reduce costs and improve their efficiency," adds Bodnar.
As the COVID-19 pandemic subsides and operations begin to normalize, sustainability will remain a key focus area of logistics. The further the growth of technology and the easier it becomes to implement, the more likely logistics companies are to take on sustainability. Additionally, the more sustainable efforts can help companies save resources will make reducing climate change even more likely in the coming years.