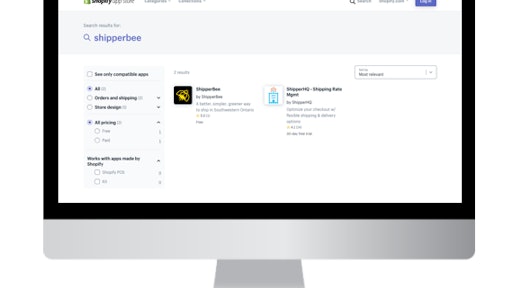 ShipperBee
ShipperBee announced that it has launched an application for Shopify, a commerce platform powering over one million merchants across 175 countries. The integration will allow Shopify merchants in ShipperBee's service area to access and offer a more cost effective and planet-friendly regional shipping alternative to their customers at checkout.
"Our integration with Shopify allows us to support merchants with our core founding principles—save money, end unnecessary local delivery delays, and drastically reduce carbon emissions through an innovative delivery model for consumer goods," comments Jim Estill, founder and CEO of ShipperBee.
With the integration, Shopify merchants can further diversify their carrier mix. Carrier diversification amidst a time where we are facing unprecedented online shopping volumes and the approaching holiday peak season allows merchants to deliver the positive experience consumers demand when it comes to ensuring orders are received as quickly and efficiently as possible.
"When we struggled with traditional carriers, we turned to ShipperBee and their Shopify integration," comments Chris Niedojadlo, director of sales and marketing, 3D Printing Canada. "Their customer service and prompt delivery schedule has allowed us to streamline our local delivery operations and provide customers with a modern alternative to a typical courier."
Shopify merchants can now cater to more purpose-driven consumers by offering a planet-friendly shipping alternative at checkout with ShipperBee's patented process bypassing the traditional hub-and-spoke system by plotting a direct delivery route resulting in 73.1% less carbon emissions for every parcel shipped.
ShipperBee's transparent and simple pricing model saves merchants money on regional shipping. The model removes hidden and residential fees, and volume, fuel and peak season surcharges that traditional carriers add to their monthly invoice. By leveraging a more cost-effective shipping option, merchants can reduce shipping costs or keep pricing competitive by incorporating those costs into product costs to offer free shipping and reduce cart abandonment rates.
Companies in this article