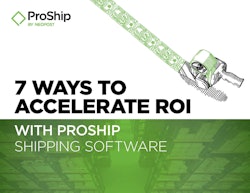 Shipping is the lifeline for e-commerce retailers, but it has its challenges, such as customers demanding fast and free delivery, which means faster processing speeds in the warehouse. If you have lost customers due to delivery speed or cost, it is time to make a change.
Many retailers turn to multi-carrier shipping software because their shipping department is plagued with issues that slow them down and cost them money. The good news is, you can solve those pain points and impress customers with shipping automation.
Here are a few ways investing in the right shipping software will increase your ROI:
30 percent reduction in shipping costs with automated rate shopping
33 percent reduction in cart abandonment by providing more shipping options
Access to more than 50 million more customers with a better cross-border shipping strategy
And that's not all. Download this e-book to read about all the ways multi-carrier shipping software can pay back big.