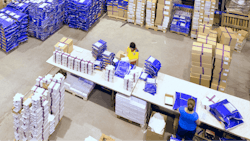 *This content brought to you in partnership with 3PL Central, an Extensiv Company*
Strategic marketing tactics to accelerate growth have never been more imperative to maintain an edge. Third-party logistics (3PL) warehouses want to hold onto their current customers while forming new alliances with emerging ecommerce businesses.
The complexity of supply chains has evolved substantially as organizations focus on core competencies to ensure speed to market, analytic-based decisions, and greater cost efficiency.
This growth remains the driving force for all ecommerce merchants, but they need assistance with logistics. Forming a partnership becomes a win/win for everyone involved; the 3PL and the ecommerce business both grow while meeting each other's needs.
The ability to scale, attract new customers, offer extended geographic coverage, and provide innovative services are just a few ways 3PLs have stepped up their game to serve ecommerce businesses.
Using ecommerce workflow-driven growth strategies can differentiate your 3PL from your competitors, providing the promise of future success by forming concrete ecommerce best practice workflows.