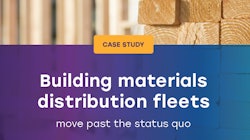 *This content brought to you in partnership with Omnitracs*
With the numerous challenges within the building industry, the safe and efficient distribution of building materials is more important than ever. Companies are facing capacity bottlenecks and rising supply and operational costs among other concerns.
To be competitive in this challenging landscape, you need an integrated fleet management solution that eliminates outdated processes and maximizes efficiencies.
Download this eBook to learn how to:
Overcome recent industry challenges related to COVID-19
Improve your customer experience
Enhance driver and fleet safety
*This content brought to you in partnership with Omnitracs*