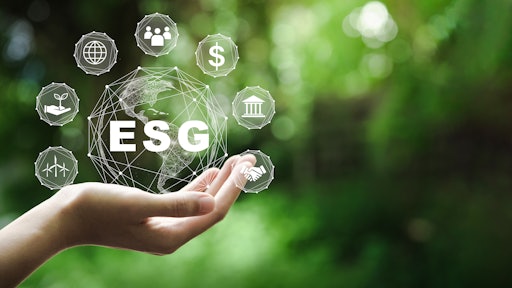 Deemerwha studio/stock.adobe.com
With tightening global regulations on one side and an increasingly discerning consumer base on the other, retail businesses are feeling pressure from all ends to deliver on sustainability without compromising efficiency and keeping their costing structure in check for their private brands. Today consumers are equipped with greater awareness about the social and environmental impact of the products they buy, and it's rapidly changing how they shop. A 2023 study by NIQ found that 69% of global consumers say that sustainability and ESG concerns have become increasingly important to them over the last two years.
These consumers are demanding more responsibility and better transparency from brands and retailers. As a result, sourcing managers face the dual challenge of not only identifying cost-effective suppliers but also ensuring they adhere to their company's increasing standards of social and environmental sustainability. Meanwhile, as governments rapidly implement tighter new due diligence laws, businesses are in a race against the clock to adapt. Old-school, manual supply chain management processes can't sustain this pace. Brands and retailers need a big-picture, 360-degree view of their supply chain to make the most sustainable decisions, but that's impossible given the siloed nature of traditional supply chain systems.
These dynamics reinforce the imperative for brands and retailers to invest in robust digital solutions geared toward efficiency and sustainability. Digitalization introduces the visibility that businesses need to constantly monitor, analyze, and improve the sustainability performance of their supply chains down to the Nth tier, including water and energy consumption and Scope 3 carbon emissions. This visibility, in conjunction with cloud-based collaboration tools, allows retail businesses to better align with their suppliers on sustainability goals, something that's proven to be a challenge for the industry.
Recent studies have repeatedly found that in matters of sustainability, many global suppliers lag behind the soaring expectations of brands, consumers, and regulators. The success of ESG initiatives hinges on businesses synchronizing with these suppliers. Every stakeholder, from the raw material provider to the final logistics partner, must have a clear understanding of the company's expectations. Through digitalization with a multi-enterprise platform, brands and retailers can enforce their sustainability standards and monitor suppliers' progress while fostering the collaboration and communication necessary to work toward these goals together. This collective alignment also enables accurate, transparent reporting on corrective action plans and the sustainability performance of suppliers down to the Nth tier.
A Holistic View of Sustainability
Brands and retailers can only accomplish so much with a fragmented view of their supply chain operations. Sustainability touches nearly all supply chain processes, and companies need an integrated perspective that captures the specificities of both environmental and social sustainability. From the outset, where product developers conceptualize eco-friendly designs, to the end, where logistic teams consolidate shipments to minimize their environmental footprint, sustainability impacts every decision made during the product lifecycle. Product developers, for instance, must balance innovative designs with low-impact materials. Sourcing teams need to carefully vet suppliers on their social sustainability performances.
Order and procurement teams must emphasize bulk ordering or optimized procurement cycles to reduce transportation footprints. Every department plays its part: A product design team might choose biodegradable materials, but if the sourcing team procures from a high-risk supplier, the chain breaks. This is another area where traditional manual supply chain management processes lag behind, since they necessitate manual interventions to collate data, which elevates the risk of errors or oversights. Only a comprehensive multi-enterprise platform creates a panoramic, real-time view that is essential for guaranteeing all stakeholders and departments live up to their shared responsibility.
Today's best practices will be inadequate five years from now. Emerging challenges around wastewater management, deforestation, and circular economies are rapidly gaining prominence, and each new sustainability concern brings with it a gamut of regulations, adding complexity to an already intricate supply chain landscape. Brands are grappling with not just adhering to these regulations but integrating them seamlessly into their operations to maintain a competitive edge. This dynamic reinforces the criticality of digitalization. By adopting a multi-enterprise platform, retail businesses can ensure they remain ahead of global regulations and consumers' expectations today and into the future.