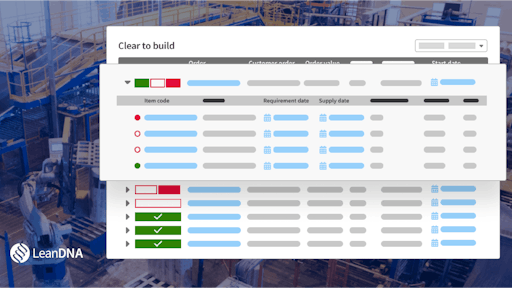 LeanDNA
LeanDNA's new Planner Workbench uses automated clear-to-build capabilities to streamline processes for more efficient workflows.
"Manufacturing leaders across the world use LeanDNA to bring people and data together in real time to streamline workflows through enhanced visibility and collaboration," says Richard Lebovitz, CEO of LeanDNA. "Clear to Build specifically empowers production planners to use LeanDNA's advanced analytics that leverages current inventory, demand and order pegging to optimize resources and maximize productivity."
From LeanDNA:
LeanDNA's

clear-to-build functionality is automated to streamline workflows and increase productivity across the supply chain. With this enhanced visibility into production material health, operations can continue with confidence knowing what they can and cannot build.
This collaborative workbench shows production managers if they have everything needed to begin production and helps proactively identify materials that are missing and could stall production or are a potential shortage risk.